This Wonderful 'Hot Dudes Reading' Instagram Account Proves Smart Is Dead Sexy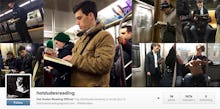 Ladies (and gentlemen), prepare yourselves: We have some red-hot, man-on-book action for you.
It comes courtesy of @hotdudesreading, a new Instagram account dedicated to cataloging all the smoldering bookworms of the New York City transportation system. With 146,000 followers to date, the page has been around the block, but its intense fandom suggests that the proprietors might be on to something.
The account only has 14 posts so far, but trust us: Those 14 are well worth your time. These aren't just middle-of-the-road hot dudes — they're billboard-worthy lookers, and they read books. 
"We've always chatted about constantly falling in love on our subway commutes and organically began sending these pictures to one another," the creators, who have remained anonymous, told the Huffington Post. "The Instagram account was started on a lark as something to do on a snowy day, and a week [plus] later, here we are."
The hot dudes are armed with books, newspapers and magazines (the account description includes the hashtag "#NoKindles"), and all happen to be perfectly situated for a covert photograph. Most seem to have no idea they're about to become the Internet's latest crushes, but that's not a bad thing: The intense, lost-in-a-good-book look might just be the best part.
The creators — reported by the Huffington Post to be a group of 20- or 30-something men and women in New York — also get inventive with the captions. "Spotted this scruffy prince on his morning commute," reads one. "Probably to sculpture class. I'm sure he's reading a collection of post-war Russian short stories, but really thinking of how he made love to his French girlfriend this morning and the gluten-free toast they shared after." 
It actually makes sense. Smart people are hot, and reading certainly gives off that impression (whether or not these guys are actually absorbing what they're staring at is unclear). 
According to Match.com's annual Singles in America survey, which polled more than 5,600 American singles 18 and over, 86% of women desired someone who was as intelligent as they were, and 61% wouldn't date someone who was less intellectual than them. 
Men were cut from a similar cloth. Eighty-seven percent would date a woman who was more intellectual, and 87% would date someone who was more educated. It's not ironclad proof, but it's at least an indicator that George and Amal Clooney are on to something — nerdiness is sexy.
"Reading is fundamentally hot," the people behind @hotdudesreading told the Huffington Post. "Who doesn't like to fantasize a little bit about the sexy stranger we spot sitting across from us?"