Meet the First Model With Down Syndrome to Walk at New York Fashion Week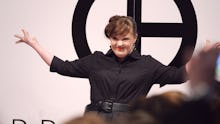 On Thursday, Jamie Brewer, an actress known for her role in American Horror Story, took on a new role: the first woman with Down syndrome to walk the runway at New York Fashion Week. 
Brewer graced the crowd at designer Carrie Hammer's runway show during the Mercedes-Benz-sponsored event. The actress is the latest member of the designer's campaign, "Role Models Not Runway Models," which aims to highlight powerful, inspiring and exemplary women — not necessarily models — in her shows. 
"Young girls and even young women ... [see me] and say 'Hey, if she can do it so can I,'" Brewer told Today. "It's a true inspiration being a role model for any young women to [encourage them] in being who they are and showing who they are."
Besides working as an actress, Brewer is also involved with a number of organizations that raise awareness for people with disabilities, including the National Down Syndrome Congress, the American Association of People with Disabilities and Down Syndrome in the Arts and Media.
According to Hammer, Brewer found her way to the campaign at the suggestion of Katie Driscoll, the co-founder of Changing the Face of Beauty, an organization that aims to increase the inclusion of people with disabilities in media. Driscoll's daughter Grace also has Down syndrome, and when Hammer asked her who she could include as a role model for her daughter, Driscoll named Brewer. 
"I explained to her how important it is for my daughter to have role models like [Brewer] to see that [anything] is possible," Driscoll told Today.
On Thursday, Brewer was featured alongside women like Nicole Cramer, the Global Chief Creativity Catalyst at McCann Worldgroup and Shiza Shahid, the co-founder of the Malala Fund.
According to Hammer, Brewer's outfit — dark button-up shirt, swingy skirt and ankle-strap heels — was inspired by her character on American Horror Story.
"[The show] is dark, scary, bewitching so we had to go with black and Jamie has a beautiful body with a teeny waist and curves and we went with an A-line," the designer told Today.
Brewer's inclusion is a milestone in many ways, particularly on the runways, which, while improved as of late, are not exactly known for their overwhelming diversity. Hammer in particular has helped to remedy this: Her last show also featured role models instead of runway models, and included Danielle Sheypuk, who became the first model in a wheelchair to appear in at New York Fashion Week.
"A lot of people have a certain image of what perfect is until they actually see or hear something that's extremely different in the media," Brewer told Bustle. "If you haven't seen or heard of the variety, how would you really know [it exists]? I think everyone in life should be willing to give anybody a chance in any profession."