The Best Online Dating Pickup Lines All Have One Thing in Common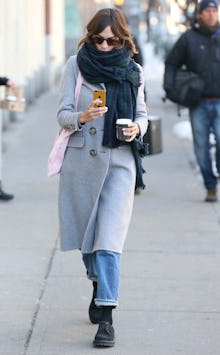 "How's it going?"
It might sound like a simple opener, but in the world of online dating, finding that magical icebreaker is just as elusive as a great first date. 
According to a new meta-analysis of 86 different psychology, sociological and behavioral studies conducted by researchers from Barts and the London School of Medicine and the University of North Texas, there's a right and a wrong way to initiate conversations when online dating.
The strategy? Ask a question. The study found that open-ended questions are most likely to get responses because they can have "many possible positive answers." Adding a bit of playful, unexpected humor and candid exposures of (light) personal information can really help. As researchers discovered, the moods we set in initial messages influence how we anticipate the rest of our interactions unfolding.
As reported by the Daily Beast, the study uncovers that we should "keep the first missive short and sweet, be enthusiastic and don't keep an online paramour waiting." Immediate, eager responses aren't necessarily a turn-off and can help prevent the prevalent online dating "fade." Over-complimenting, however, can be one of the biggest deterrents to matches, as attraction is most potent when potential mates leave a little uncertainty, as previous studies have shown.
As Dr. Khalid Khan, author of the meta-analysis, writes, "One short, positive remark, directly addressing the person's character or photo, will do. We routinely reject unrealistically positive views of ourselves, because this raises suspicion about the motives of the complimenter."
In other words, you want to avoid this:
Rather, compose something like this: "Liz Lemon or Leslie Knope?" 
Keep it casual: In a 2009 analysis OkCupid performed on 50,000 first messages, the most responded-to greetings took a casual, even unusual tone. While openings like "hi" typically got an opening rate of 27%, OkCupid's Christian Rudder writes, the "more informal standard greetings: how's it going, what's up and howdy" performed better. 
As reported in The Science of Us, Rudder also found that the most responded-to first messages are only 40 to 60 characters long. They are short enough to be tweeted out, and brief enough that they can be composed in less than a minute. The takeaway: We should not overthink this.
With Valentine's Day impending, and the peak online dating season coming to a close, these findings come at a key time. Now more than ever, online daters are using crowdsourced forums like Reddit to uncover new ways of finding love on OkCupid and Tinder, according to another recent study. 
 So, keep it cool and keep it original. And whatever you do, keep it under 5,000 characters. Please.