Bill Cosby Could Finally Be Prosecuted for Sexual Assault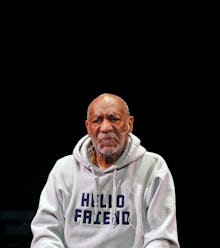 It seems unthinkable that any individual could assault dozens of women and face no legal repercussions. But this might be the case for Bill Cosby, who, despite being accused of sexual assault by dozens of women over the past decade, has yet to face criminal prosecution. 
Now, the most recent accusers to step forward might change this.
Linda Brown and Lisa-Lotte Lublin, who held a press conference Thursday with their lawyer, Gloria Allred, are the latest to level allegations of sexual assault against Cosby. Their stories sound eerily similar to those of the many other women who have spoken out. Both allege that Cosby slipped drugs into their drinks while they were in his hotel rooms, Lublin in Las Vegas in 1989 and Brown in Toronto in 1969.
It's a seemingly minor detail of Brown's allegation that makes all the difference: She says the event took place in Canada. Because the allegations against Cosby thus far occurred in the U.S. decades ago, and because most U.S. states uphold statute of limitations legislation, criminal prosecution has been impossible.
Canada, however, does not have this legislation — making criminal prosecution a feasible option for Brown.
Lublin and Brown join a seemingly ever-growing list of accusers, including Helen Gumpel, who spoke out on Sunday, and Beth Ferrier, who spoke out in January. And there may be even more: "Mr. Cosby thinks that this will soon be over and that no more women will come forward," Allred stated at the press conference. "He is very wrong. I still have many women who have not yet come forward but who are willing to do so in the future."
Though Cosby's allies continue to defend him and cast doubt upon these women's claims, other public figures have sided with the alleged survivors. Fellow comedians such as Jay Leno, Larry Wilmore and Hannibal Buress have all drawn attention to the lack of recourse for Cosby's alleged sexual assaults, asking the public different versions of the same question: Why is it so hard to believe women? 
Rape allegations continue to be tinged with stigma, due in no small part to misguided beliefs about the prevalence of false accusations. So until the day comes when we're able to believe survivors on their own merit, it's inspiring to see public figures speak out on their behalf. One can only hope the public will join them, rather than immediately doubt this growing group of women. And perhaps this most recent case will provide an opportunity for at least one possible survivor to seek justice.
As Brown herself said at the press conference, according to USA Today, "I want people to know who Mr. Cosby really is: He has a Dr. Jekyll and Mr. Hyde personality, and if you trust him, then he has fooled you as well."