Florence and the Machine Has Released an Epic New Single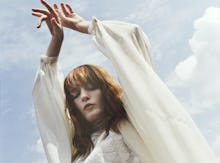 Friday morning, Florence and the Machine released their new single, "What Kind of Man," and announced that their upcoming album, How Big How Blue How Beautiful, is due out June 2. 
The new single comes on the heels of the band's album teaser, "How Big How Blue How Beautiful," the title track from the forthcoming album. This is the band's first album in four years, and "What Kind of Man" is an exciting return for one of the hottest bands of the past decade. Nothing has changed — they're still amazing.
The new album was produced by Markus Dravs, who has worked with Bjork and Arcade Fire, and his anthemic sensibilities are in full-force here. "What Kind of Man" taps into the same indie-rock firepower that put "Dog Days Are Over" on the charts for 20 weeks. And the video is a masterpiece; it's directed by Vincent Haycock, the man behind Lana Del Rey's "West Coast" and Paul McCartney's "Early Days." "What Kind of Man" is undeniably one of the best new songs of the year.
In a press release accompanying Friday morning's announcement, Welch said that the new album would feature more vulnerability than her past work. "I guess although I've always dealt in fantasy and metaphor when I came to writing, that meant the songs this time were dealing much more in reality," she said, according to Consequence of Sound. "But the new album became about trying to learn how live, and how to love in the world rather than trying to escape from it. Which is frightening because I'm not hiding behind anything but it felt like something I had to do."
With her newly embraced vulnerability, "What Kind of Man" might just be Welch at her best.