Taylor Swift Just Released a New Music Video — And It Looks Like an Abercrombie Commercial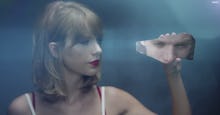 Taylor Swift just released the new video for her next No. 1 hit (probably), "Style." It's filled with slow, sultry shots of muscular white boys taking off their shirts from a variety of angles, plus shots of Taylor looking distraught yet hip in a variety of highly Instagrammable locales. 
In short, it looks like an Abercrombie and Fitch catalog.
Buy Abercrombie. From the very first shot — when Swift's profile slowly melds into a beach scene where Abercrombie model No. 1 is looking out over the raging surf — we can see "Style" is not exactly the next super-self-aware "Blank Space." But it's still reasonably tasteful, and none of it distracts from the song. It's one of the strongest cuts off her still chart-topping album 1989.
But the drama and vacuity fits the tone of the song. "Style" is rumored to be about Harry Styles, one of the singers from One Direction, whom Swift dated for a time in 2012, ending in early 2013. The lyrics "long hair, slicked back, white T-shirt" describes Styles' M.O. pretty well. It also describes an Abercrombie model's M.O. pretty well too. As Mashable points out, Swift, in peerlessly devious ex-girlfriend fashion, "flashes the ultimate Easter egg in the video — the infamous paper airplane necklace, supposedly once gifted to her by her former flame, Harry Styles, and mentioned in Swift's song 'Out of the Woods.'"
Either way, all the catalog sheen of "Style" aside, it does look as if Swift's art is maturing. She shows she can hold together a dramatic video without it devolving completely into melodramatic sap. Not that she needs to prove anything to anyone. Her album 1989 is the one of only two albums to go platinum in 2014. And it's been No. 1 for 11 weeks, making Swift the only woman since Whitney Houston to pull off that feat. There's no way to deny it — Swift's got style.
h/t Mashable