This Dance Video Is the Perfect Tribute to Missy Elliott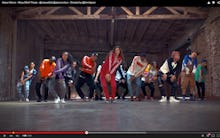 Remember the pigtailed girl from Missy Elliott's "Work It" video? Well, she's all grown up and her moves are better than ever. 
Her name is Alyson Stoner, and she's a professional hip-hop dancer. Since her debut in Elliott's video, she's appeared in the Step Up movies and taken dozens of roles as a voice actor for kids' cartoons. Stoner and choreographer Tim Milgram put this dance video together to pay tribute to Elliott and to show off their mad hip-hop moves. And it's amazing.
In an interview with BuzzFeed, Stoner spoke all about her experience working with Elliott as a 10-year-old dancer. "To this day, I remember vividly Missy Elliott, Ludacris and my grandma riding in a golf cart to set," she said. "My grandma went back to Ohio and told her bowling friends, 'Guess what? I was riding to set with Missy and Ridiculous!'" 
Stoner released her video on the heels of the exciting news that Elliott is back in the studio with Timbaland, working on new music. 
Maybe Elliott and Stoner will reunite for a new music video — we can only hope. Either way, given the reception of the video alongside all the buzz Elliott has garnered over the past couple of weeks, it's clear that she's back.