Drake Just Dropped a Surprise Mixtape and It's Excellent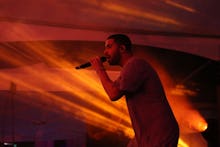 On Thursday night, Drake got more emotional than ever before.
At around 8 p.m., the Toronto rapper tweeted a photo of a handwritten note, "IF YOU'RE READING THIS IT'S TOO LATE," along with a link to the iTunes store, where an album by the same name sat waiting for fans to pore over. Those 17 tracks are some of the most haunting, evocative and emotional he's ever released. The dense confessionals will offer plenty for Drizzy fans to parse through during late-night Rap Genius sessions.
The minimalist drum patterns and dizzying, muffled chords of the beats on If You're Reading This, It's Too Late offer Drake plenty of space for his existential crooning. He spirals so deep into his confessional style that, at times, it sounds like he's close to losing it. On the hymn "Now And Forever," he raps, "I don't wanna miss the boat, I don't wanna sit in coach / I don't wanna sit in home I gotta get where I'm going / I'm afraid I'mma die before I get where I'm going / I know I'mma be alone." The desperation in lines like these, which are scattered throughout the album, are only enhanced by the album's cover — that faux-suicide note he tweeted with its first link.
It mirrors the feel of the 15-minute long "Jungle" video, which he'd released earlier that morning. The video shows him lurking in his familiar settings, waxing poetic about the emptiness of his surroundings and his future. "The whole energy out here is changing, you know?" Drake says in one particularly somber shot. "It feels like anybody's a target — you don't know where it's going to come from ... It's like I go from trying to balance that to balance my own sanity. I'm drinking more, smoking more. I'm not losing it, though. I'm just venting."
But he's still one of the best in the game. Drake is doubtlessly still in control and still driven. "I didn't do this fuckin' tape for CNN / I am not trynna win awards / That shit applause / There's nothin' like this," he raps on the punishing "6 God." Drake is still determined to be the best rapper alive. And this tape shows him taking some of his most self-assured steps in getting there.
It's going to be a big season for Drake too. He'll headline Coachella, the Wireless Festival in London and Governor's Ball in New York City. He also might have have another album on the way later this year, titled Views from the 6 — a reference to his hometown, Toronto. If that project comes, 2015 will be huge for Drake. He's started it off right, in true Drizzy fashion, taking the deepest dive into his disturbed psyche we've ever seen.