Trojan Revealed Something Surprising About Sex for Couples After Two Months of Dating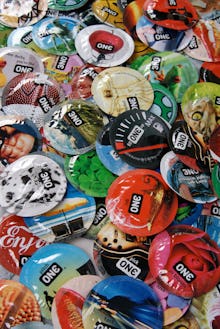 They're likely to fall off the so-called "condom cliff." And that's not necessarily a good thing. 
Friday was International Condom Day. First started by the AIDS Healthcare Foundation, the day promotes protected sex and raises awareness about AIDS. It also happens to be the day before Valentine's Day — the notoriously amorous, sexy holiday where pressures to get intimate are especially high. 
But for all the hullabaloo surrounding "cool condom" campaigns — like the Bill and Melinda Gates Foundation's "next generation" of condoms — condoms get a bad rap. We are saturated with complaints about how they feel, news of copious unwanted pregnancies and 20 million new cases of STDs reported by the Centers for Disease Control and Prevention each year. 
It's 2015. Planned Parenthood reports that as many as 1 out of 3 sexual encounters among single people occur without a condom, and that number seems to wane as people age over 40. 
We know how important condoms are for our sexual health, so why don't we just use them? 
The condom cliff. It turns out, quitting condoms is a common practice. A recent Trojan Condom compliance survey found that while 80% of American adults say condom use is important to them, only 35% always use one. Planned Parenthood reports that condoms are used by couples only 25% of the time during intercourse. Of those in long-term relationships who didn't always use condoms, 62% said they stopped using condoms at the two-month mark in their relationship.
Why are new couples falling off this two-month condom cliff, as the Nerve called it, in lieu of staying protected throughout their relationship? The survey indicated that "trust, commitment and exclusivity" were the top reasons couples reported for skipping condoms — that is, without full STD testing or a in-depth conversation about what that decisions means about health and monogamy.
Whether it seems obvious or not, there is no point in a relationship in which perceived intimacy and trust can trump communicable viruses and bacterias. That's just a fact.
Condom use is surrounded by stereotypes. While myths often connect condom use to promiscuity, especially for women, there's no evidence that links a woman's number of sexual partners to condom use. Someone who has one partner is almost just as likely to not use a condom as someone who has a series of one-night stands.
Have the hard conversation. It's worth it. Celebrate International Condom Day. And do so by talking frankly and confidently about condoms with your partner(s). While other forms of birth control and protection are available and effective, condoms remain highly underutilized. Statistics show that we can't rely on our emotions to guide us through what is ultimately our sexual health decisions.