Meet the Woman Who's About to Become America's First Openly Bisexual Governor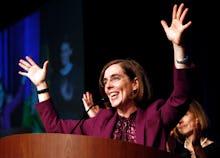 Late Tuesday, Oregon's Secretary of State Kate Brown (D) was in Washington D.C., meeting with her counterparts at their annual conference. Across the country, a corruption scandal centering on Brown's boss, Gov. John Kitzhaber (D), and his fiancee was growing and rumors of a pending resignation were beginning to spread.
Then Brown got the call. The governor, she said in a statement released Thursday night, "asked me to come back to Oregon as soon as possible to speak with him in person and alone."
But when Brown arrived, Kitzhaber asked why she'd returned home so soon and denied any plans to leave office.
It was, as the secretary of state aptly noted Thursday, "clearly a bizarre and unprecedented situation."
One day later, a final twist — Kitzhaber, who was re-elected to a fourth term in November 2014 resigned amid crumbling party support. With his departure, Brown is set to become the country's first openly bisexual governor.
"Out and elected": The 54-year-old lawyer began her political career after being appointed to the Oregon state House in 1991. Brown was formally elected the following November, eventually becoming state Senate majority leader in 2004. She is currently in her second term as Oregon secretary of state.
Brown, who has been married to a man since 1997, wrote in an essay for Out and Elected in the USA that it wasn't until her "early 30's that I figured out who, or what, I am." And then, she only came out to family and friends after "it was written in the Oregonian newspaper that I was bisexual."
The experience, Brown wrote, left her feeling like "I have a foot in both worlds, yet never really [belong] to either." Her parents told her "it would be much easier for us if you were a lesbian," while her gay friends called her "half-queer."
She also told the tale of an older colleague, long since retired Rep. Bill Markham, who sidled up to her in the House lounge, "to say, 'Read in the Oregonian a few months ago you were bisexual. Guess that means I still have a chance?!'"
Now, "accepted": Nearly a quarter-century after it outed her, the Oregonian spoke to a number of LGBT citizens about their soon-to-be governor.
"Do we claim her? Absolutely," said one woman who identified to the paper as queer. "In the community, Kate is our out-bisexual person. She's definitely been an advocate."
"Kate Brown will make history as the first openly bisexual American to become governor, and that makes us and the entire LGBT community extremely proud," Victory Fund Interim Executive Director Denis Dison told the Advocate after the news broke. 
"And while she will make history as the nation's first sitting LGBT governor, the more important truth is that she's supremely capable of leading the state to better days ahead," Human Rights Watch president Chad Griffin said in a statement Friday. 
The next step: Kitzhaber will formally resign his office Wednesday. Oregon Attorney General Ellen Rosenblum is in the midst of an investigation into potential abuses of power that helped deliver public cash to his current fiancee, Cylvia Hayes, during her time in the private sector.
With Kitzhaber's future very much in doubt, Brown will be sworn-in upon his departure. She will stand in a special election now scheduled for November 2016, a race the GOP is apparently eager to get started now.
"Kate Brown and other Oregon Democrats stayed silent for months on the matter, demonstrating they cared most about their allegiance to their party, not the constituents who elected them," RGA communications director Jon Thompson said in a statement provided to Politico after the governor's announced his resignation.
It was a fair line of attack and Brown will have to answer for it soon. But for today, she can get busy preparing to get both feet into this brave new world.