Here's What Salad Looks Like Across America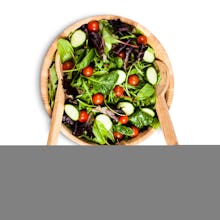 If the lunch-hour rush raises any important existential question, it might be: What is salad? 
The etymology of the word is simple enough: Salad comes from sal, the Latin word for salt. Originally, food historians believe, salad referred to raw vegetables in a salty dressing. But that simple definition no longer covers the broad array of foodstuffs Americans call salad. Here's a sampling of popular salads across across the country.
New York City: Kale, as well-massaged as possible. The weighty green emerged on the salad scene around 2007, according to this New York Times story. Food trend predictors say kale is over, but if best-of lists, Instagram and Yelp are any indication of taste, it's still going strong. 
Washington, D.C.: Sweetgreen's Guacamole Greens. The cultish salad chain Sweetgreen, which started in our nation's capital, hasn't lost steam in D.C., where it won "Best Salad" of 2014. Residents of the district, current and former, weighed in and elected Guac Greens as the (unofficial) salad of the people. (This is a photo of the salad at its New York outpost.)
Below the Mason-Dixon Line: Seven-layer salad. Unlike some mayo-based salads, stratification is key to nailing this down-home favorite. The seven layers are: tomatoes, cukes, onions, sweet peas, hard-boiled eggs, sharp cheddar cheese and bacon pieces, plus a thick coating of mayo on top. (The photo depicts a healthier twist on the original.) 
Tampa, Florida: 1905 Salad. Waiters at the legendary Columbia Restaurant toss this garlicky, iceberg-and-Swiss-cheese-laced salad at the table. 
Louisville, Kentucky: Bibb lettuce with bourbon vinaigrette. Don't let Boston take credit: Bibb lettuce, also called Kentucky limestone lettuce, originated in 1812 in Frankfurt, Kentucky, according to a 2001 Cincinnati Enquirer story. It's a go-to salad for Kentucky Derby parties; so is ham salad.
Arizona: State salad of Arizona, also called the original chopped salad.
Detroit: Michigan Salad. Precise recipes vary for the Great Lake State's signature salad, but common ingredients include greens (mesclun or arugula), dried cherries, blue cheese, apples, walnuts and a fruity, maple syrup-based vinaigrette.
Chicago: Vending machine salad packed in jars. Last year, Farmer's Fridge began offering $1 salads to Chicago residents in neighborhoods with poor access to fresh food. The startup is expanding to other cities.
Idaho: Snickers taffy apple salad. (Sometimes just "taffy apple salad"). Snickers bars, candied Granny Smith apples and whipped cream. People who have peanut allergies may sub in legume-free candy bars instead. 
Nonspecific swath of the Upper Midwest: Watergate salad, aka pistachio delight or Green Goop. This politically monikered side salad (as explained by Seriouseats.com) consists of pistachio pudding, canned pineapple, Cool Whip and marshmallows. Serve chilled. 
Minnesota: Glorified Rice. As the name suggests, this is a rice-based salad, and it's apparently popular in areas where a lot of people come from Scandinavian stock. It also includes crushed pineapple and sometimes maraschino cherries.
(Not) Minnesota: Grape salad. Minnesotans have no historical connection to or affinity for grape salad, which consists of grapes, sour cream, and brown sugar. Last Thanksgiving, the New York Times ran a feature on off-kilter Thanksgiving foods popular in each state and incorrectly identified grape salad as a Minnesota favorite, as NPR reported. Minnesotans weren't pleased. Grapegate ensued.
Utah: Jell-O salad. In the 19th century, the typical presentation of a salad — a loose mix of cruciferous greens — fell out of fashion, according to foodtimeline.org. It was too unwieldy. People wanted something with a definite form and, apparently, more jiggle. Thus began a culinary tradition of encasing pieces of food in a gelatin mold. Jell-O is the official state snack in Utah, where Jell-O salad is staple Mormon dish. At the very least, Jell-O salad requires jello and shaved carrots. Innovators throw in cottage cheese, marshmallows, nuts and pretzels.
Seattle: Canlis salad. This simple but cherished salad has been a mainstay menu item at the eponymous Rainy City restaurant since 1950. Over the years, it has earned critical praise and culinary attention from coast to coast, as this Grubstreet article reported. 
San Francisco: Burmese tea leaf salad. SF foodies love the national food of Burma, a medley of chopped lettuce, nuts, grains, pickled tea leaves and lemon juice. 
Los Angeles: Chinese chicken salad. Cal-Asian greens originated at Madam Wu's, an old-Hollywood eatery that closed in 1998, according to LAist.com. The lunchtime legacy, however, stuck around. Here's Eater's list of the city's best Chinese chicken salads. 
Hawaii: Macaroni salad. A scoop of very soft, mayo-drenched pasta appears on every Hawaiian lunch plate, and every luau comes with lunch plates.