Jimmy Fallon Hilariously Explains #WhyImSingle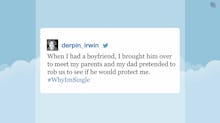 Valentine's Day is here, and we're all dying alone.
That's the message hilarious delivered by Jimmy Fallon on The Tonight Show, where the comedian/host sampled Twitter's greatest contributions to the ouvre of singledom: #WhyImSingle.
Whether it's a possessive father, terrible eating habits or an arguably too-close relationship with your cat, Fallon found the Internet's most brilliant, embarrassing and accurate descriptions of singledom in America.