Terror in Copenhagen: Suspect in Deadly Attacks Shot and Killed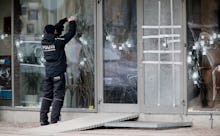 Copenhagen police say they shot and killed the man believed to be responsible for two attacks in the Danish capital that left two people dead and five police officers injured.
The first attack, a shooting at a cafe where a public seminar was being held on "art, blasphemy and freedom of speech" following the Charlie Hebdo massacre in Paris, left at least one person dead. Hours after the initial shooting, a man was shot and killed outside of Copenhagen's main synagogue.
Hours after the second attack, which occurred as a bat mitzvah was taking place inside the temple, police shot and killed the suspect after he opened fire on officers near the Nørrebro metro station on the northwestern outskirts of the city, near an apartment that was being kept under surveillance following the shootings, according to a statement made to reporters by police inspector Jorgen Skov. 
"We believe the same man was behind both shootings and we also believe that the perpetrator who was shot by the police action force at Nørrebro station is the person behind the two attacks," Skov said.
The attack is a shocking reminder of the Charlie Hebdo attacks in Paris last month. In both attacks, a shooter targeted satirists who had "defamed" the Prophet Muhammad by depicting him in unflattering cartoons — the event at the Copenhagen cafe had been organized by controversial Swedish artist Lars Vilks, who has faced death threats after drawing a series of cartoons featuring Muhammad as a roundabout dog (a Scandinavian art installation common in Swedish traffic circles that looks like a dog).
Following those shootings, both incidents were followed by attacks on Jewish-affiliated businesses or houses of worship. The New York Times reported that Jewish community leader Dan Rosenberg Asmussen, the victim of the shooting outside the synagogue was a young Jewish man standing guard next to a building adjacent to the temple.
Danish Prime Minister Helle Thorning-Schmidt had said following the cafe shooting that Copenhagen was in the grips of a terrorist attack. "We feel certain now that it was a politically motivated attack, and thereby it was a terrorist attack," Thorning-Schmidt said, according to the New York Times.
Following the death of the suspect on Sunday, Thorning-Schmidt made an effort to draw distinctions between terrorism in Denmark and the country's sizable immigrant population. "This is not a war between Islam and the West," Thorning-Schmidt said. "We will do our best to defend our democracy and Denmark."