Utah May Bring Back the Most Inhumane Capital Punishment Ever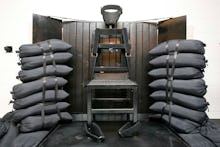 The United States has more than 3,000 people on death row and a federal government that's increasingly uncomfortable with the unreliability of lethal injection as a method of capital punishment.
Utah's solution? Bring back the firing squad.
The Utah House of Representatives has passed House Bill 0011, which would allow the resumption of performing executions by firing squad. "If substances are not available to carry out the death penalty by lethal injection on the date specified by warrant, the death penalty shall be carried out by firing squad," the bill states.
The bill passed in the Republican-controlled chamber 39-34, but its future in the Republican-controlled state Senate isn't as certain. According to the Associated Press, Senate President Wayne Niederhauser, has not told reporters whether he will support the bill's passage, and Republican Gov. Gary Herbert is mum on whether he would sign the bill into law.
Rep. Paul Ray, the bill's chief sponsor in the House, told the Salt Lake Tribune before the vote that the state is being forced to consider such brutal execution tactics by European anti-death penalty advocacy. "The European company that makes this [cocktail] is refusing to sell to the United States because they're opposed to the death penalty," Ray said, according to the Salt Lake Tribune. "A firing squad is "absolutely one of the most humane ways to execute someone because it's so quick and, quite honestly, one of the most painless ways."
According to the bill's language, the firing squad would become the default method of execution for all death row inmates if the state is "unable to lawfully obtain the substance or substances necessary to conduct an execution by lethal intravenous injection 30 or more days prior" to the scheduled date of execution.
Although the bill does not lay out the protocol of an execution by firing squad, it has plenty of experience with the practice: Death by firing squad was only banned by the state in 2004, and since the ban was not retroactive, an inmate who had previously chosen the method, also known as fusillading, was executed by a Utah firing squad in 2010. When put into practice, a target is placed over the heart of the condemned as five unidentified law enforcement officers take aim with .30-caliber rifles. Upon the convicted's final words, the officers fire.
It's a game of legislative chicken with the Supreme Court. The Court is due to weigh in on the constitutionality of so-called "cocktails" for lethal injection. Either let us perform lethal injection our way, the bill's authors are saying, or we're going to lock and load.
Of course, there is a third option: End the death penalty.