This Model With Vitiligo Has Taken New York Fashion Week By Storm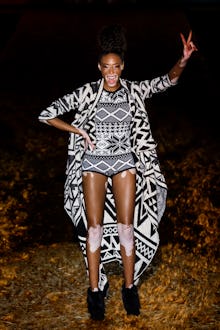 Winnie Harlow is the most beautiful face in fashion.
The 20-year-old model and former America's Next Top Model contestant has been strutting her stuff on the runways of New York Fashion Week for Spanish atelier Desigual to widespread acclaim, despite — or perhaps due to — her vitiligo, a skin condition characterized by the loss of pigment in patterns on Harlow's skin.
"I feel like the industry is very much opening up, widening their eyes," told the BBC. "That's what people are looking for, you know, something they can relate to, a real person."
Harlow first caught the attention of the fashion world through her Instagram account, in which her vitiligo — and indefatigably positive attitude — features prominently. 
Her striking look and undoubtable confidence has taken Harlow to the catwalks of Madrid Fashion Week as well as New York, with her eyes set on a final prize: The cover of American Vogue.
Harlow is beautiful inside and out. In an industry marked by an obsessive fixation on conformity, her vitiligo has empowered her with the ability to break the mould — and the fashion world is taking notice. With the huge public reception and more than 500,000 followers on Instagram, Harlow is proof that the world is hungry for a fashion icon that doesn't look like a cookie-cutter copy of every other runway model.
Harlow has been criticized by some for her willingness to wear foundation to alternately accentuate or diminish the obviousness of her vitiligo, but the criticism doesn't bother her. "It's my life. I'm very happy for whatever choice you want to make," she once told the Guardian. "Getting your eyebrows done, lip injections, a haircut, liposuction, that's your choice. People think that because I'm so proud of my skin I stand for making no changes. I'm not for or against anything other than being happy."
h/t BBC