Palestinian Rappers Are Furious With Benjamin Netanyahu For Stealing Their Songs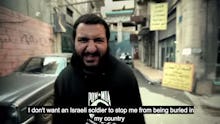 Add this to the long list of grievances Palestinians can lodge against Israeli Prime Minister Benjamin Netanyahu: A Jordan-based Palestinian rap group is threatening legal action against Netanyahu's right-wing Likud Party for lifting one of their songs for a campaign ad — and linking the musicians to ISIS.
The group, Torabyeh, which describes itself on Tumblr as an "Amman-based alternative arts group ... committed to pioneering a much-needed arts revolution," is furious after Israel's ruling Likud Party released a political advertisement featuring the Torabyeh song "Ghorbah." The since-deleted ad, posted Saturday on Netanyahu's Facebook page, featured actors portraying bearded Islamic State terrorists roaming the Israeli countryside in a Toyota Tundra. The group asks a passing driver in Arab-accented Hebrew, "How do we get to Jerusalem, bro?"
"Take a left," he replies. 
On Netanyahu's Facebook page, the none-too-subtle ad was paired with an equally inflammatory description. "This time, choose us or them," the post said. "A government run by Netanyahu or the Left, weak and submissive with Isaac Herzog and Tzipi Livni," referring to the leaders of the Zionist Union, a center-left political alliance between the Israeli Labor Party and the left-wing Hatnuah Party that advocates for a two-state solution to the Palestinian question.
The rap collective is more than a little angry. In a retaliatory Facebook post, Torabyeh dismissed the ad as propaganda and criticized Israeli political parties of all stripes. "The use of the song in the particular context cannot be considered anything but deliberate propaganda of the Zionist right for the purpose of electoral propaganda and attacking the so-called Zionist 'left wing.' Furthermore, it implicates the Torabyeh group by containing serious accusations of terrorism and association with ISIS which is consequently putting the group's members lives at risk."
"We strongly condemn and reject this ruthless infringement of intellectual property rights and the distortion of the reputation of Torabyeh," the post continues. "What is more, we reject all forms of cooperation with the Zionist enemy (right and left) and the fascist expansionist colonial entity. Torabyeh group will take all necessary legal action against those responsible."
The comments below the post are even less measured: "First they stole your land, your homes, your lives and now they steal your art," "There must be millions around the globe laughing so hard that they're pissing their pants," "Solidarity and best wishes for your prosecution of the thieving zionist war criminal Nutanyahoo."
Upon viewing the music video for "Ghorbah," Torabyeh's strong reaction isn't surprising. The song is a full-throated condemnation of the oppression faced by artists and Palestinians in the region, and a criticism of Israeli settlement and occupation of Palestinian territories: "I just want a place where I can secure my son's rights / I am not a killer but I can commit a crime to protect my rights / For my country my pen is writing for me / I don't want an Israeli soldier to stop me from being buried in my country."
It's part of a larger narrative of what's called "cultural resistance," the use of music, poetry or art as a forum for political dissent free from the Western influence or censorship. The Israeli government has attempted to silence this kind of music before, confiscating cassette taps featuring "propaganda" and preventing radio play of Palestinian music critical of Israeli policy.
Like nearly everything involving Israelis and Palestinians, it's not easy to take sides. Netanyahu's Likud has doubled down on its opposition to Palestinian statehood and support of Israeli settlements in the West Bank and Gaza, and Netanyahu has called for the scrapping of a United Nations probe into alleged human-rights violations during last summer's week-long war in Gaza. His party's co-opting of Torabyeh's protest art in a political advertisement to inspire fear and insularity in voters uses the rap collective's own words against them.
But Torabyeh isn't without complications, either. Despite the complicated relationship between more religious political parties and Palestinian rap and hip-hop groups, the very song that the Likud used in its advertisement lauds the actions of Hamas, the political party-cum-militant group whose tunnels (used to smuggle weapons and kidnapped Israeli soldiers) were the declared reason for Israel's actions last summer .
In the U.S., where musicians have been lodging complaints against politicians for the unlicensed use of their music for years, the issue would be one of fair use and royalties, ending in the likely deletion of the video and a token apology. Netanyahu, however, is standing firm: Despite thousands of angry comments, the video remains on his page.
h/t Al-Arabiya