Passion Pit Just Released Two Amazing Singles in Two Days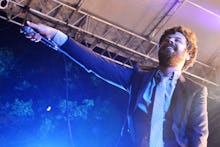 It's been nearly three years since Passion Pit's last album, Gossamer, found the sweet spot of mainstream synth-pop. But in that time, they haven't missed a single beat. Passion Pit just released a new single Tuesday, titled "Where the Sky Hangs." It has all the life-affirming melodic and lyrical simplicity we've come to expect from the band, along with a few new sonic twists. And it's the second amazing single they've released since Monday.
Paired with an adorable video portrait of a boy and girl looking up at the sky, "Where the Sky Hangs" captures a mellow summer evening's vibe perfectly. It's a bit slower than we're used to hearing from the band, and it's lighter on the synth textures and electronics. But those changes make it one of the warmest and most soul-stirring we've heard from Passion Pit. It's nearly impossible not to smile during that cheeky chorus.
This is the second song Passion Pit has shared from their upcoming album, Kindred, due out in April. The previous single, "Lifted Up (1985)," released Monday, is reminiscent of the anthemic "Carried Away" and "Take a Walk," two of their bigger singles off Gossamer, which helped the band break into the mainstream. 
The band has clearly been busy. And they've been using their newfound mainstream attention to help other acts rise to notoriety as well. Last year, Passion Pit's lead songwriter, Michael Angelakos, was heavily involved in developing the career of indie pop artist Ryn Weaver, whose song "OctaHate" was the most unexpected hit of the summer. Earlier last year, Angelakos also collaborated with EDM DJ Skrillex on the title track of the DJ's debut studio album Recess. 
Two months ago, Angelakos also released his own batch of new songs on his SoundCloud. None of them, it seems, will carry over onto Kindred. Keep an eye out for more singles as Passion Pit continues to bring its irresistible synth-pop joy to the world.
h/t Stereogum