Watch Beyoncé's Incredible 9-Minute Stevie Wonder Medley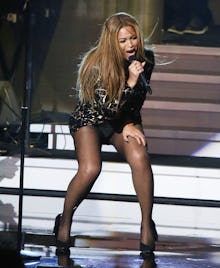 On Monday night, CBS aired a pre-recorded tribute concert to living funk and soul legend Stevie Wonder. Many artists took the stage, but one left a more lasting mark than any other. With help from Ed Sheeran and Gary Clark Jr., Beyoncé performed a nine-minute medley of Wonder songs "Fingertips," "Jammin'" and "Higher Ground."
Wonder wrote these songs, but that night, Beyoncé owned them:
Beyoncé's voice and Wonder's hits are a match made in heaven. She growled through soaring climaxes, putting every ounce of her strength behind those notes. The Queen may have even broken a sweat, according to Cosmopolitan.
But Bey wasn't the only one to perform. Janelle Monae, Pharrell, Lady Gaga and John Legend all did an amazing job as well. It stands to reason. All these artists have benefited immensely from Wonder's groundbreaking career, and seeing them nod to their musical godfather was an incredible experience. Wonder pioneered merging R&B with mainstream pop — a fusion that Beyoncé, Monae, Pharrell and Legend all continue to mine today.
Wonder himself also took the stage and showed the audience what it means to have musical staying power. The 64-year-old has hardly slowed down in recent years: He finished a 11-date tour celebrating his masterpiece Songs in the Key of Life tour in December, and announced a second leg starting in March. Catch him at one of his tour dates and pay homage to a true American master.