This Top U.S. University Just Banned Iranians From Studying Science and Engineering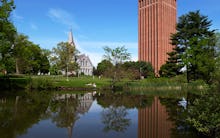 Update, 2:16 pm: According to a press release from the university, "The University of Massachusetts Amherst today announced that it will accept Iranian students into science and engineering programs, developing individualized study plans to meet the requirements of federal sanctions law and address the impact on students. The decision to revise the university's approach follows consultation with the State Department and outside counsel."
If you're an Iranian who wants to learn technical skills at one of the United States' top STEM schools, prepare yourself for some bad news.
Beginning this year, the University of Massachusetts Amherst will deny all Iranian nationals the right to study with the institution's graduate programs in engineering and the natural sciences.
The new policy requires UMass to reject all Iranian citizens who hope to get science, technology, engineering and math degrees there. The university issued a statement on its website this week, explaining that the restrictions are necessary to comply with U.S. sanctions on Iran and its suspected nuclear weapons program:
The university has determined that recent governmental sanctions pose a significant challenge to its ability to provide a full program of education and research for Iranian students in certain disciplines and programs. Because we must ensure compliance with applicable laws and regulations, the university has determined that it will no longer admit Iranian national students to specific programs in the College of Engineering (i.e., chemical engineering, electrical and computer engineering, mechanical and industrial engineering) and in the College of Natural Sciences (i.e., physics, chemistry, microbiology and polymer science and engineering) effective Feb. 1, 2015.
The message is pretty clear: If you're Iranian and pursuing a doctorate in any kind of technical discipline at UMass, tough luck. Your degree could (theoretically) prepare you to be part of a weapons of mass destruction program, ostensibly violating U.S. sanctions and putting UMass at risk of violating federal law.
Both future and current students are affected by the new policy, which could seriously affect the academic progress of Iranian students already on campus.
The problem: The policy is bullshit — and illegal. By the federal government's own admission, the UMass policy isn't actually required by any currently enacted U.S. law or policy. The school has more or less gone out of its way to strike at Iranian students on its own volition based on an interpretation of U.S. sanctions that appears to be improper.
A State Department official told NBC News that "U.S. law does not prohibit qualified Iranian nationals coming to the United States for education in science and engineering. Each application is reviewed on a case-by-case basis. We will reach out to UMass Amherst to discuss this specific decision."
As such, it's attracting a lot of criticism — much of it suggesting that the blanket penalty on all Iranian STEM students is a form of collective punishment. Iranian-American student Shirin Hakim told NBC, "We always felt like an integral part of the university community. Now we're just kind of confused ... Institutions that provide opportunities for Iranian students to come study here help cultural diplomacy between two countries that don't have the strongest political ties."
As Crooked Timber's Corey Robin notes, there's not even a "remotely" equivalent policy in place in equivalent institutions like "MIT, Caltech, Berkeley [and] Michigan." He adds that this draconian policy isn't even supported by the pro-Israeli Washington Institute on Near East Policy, which recently concluded that U.S. interests would best be advanced by an "open" policy towards Iranian graduate students. 
"The broad denial of multiple-entry visas to Iranian students in the STEM disciplines — who constitute not only the majority of Iranian students in the United States but the highest percentage of STEM students from any country — reflects a disproportionate response to a geopolitical situation in which most Iranian students have little involvement," wrote the analysts. "More than any other challenge Iranian students face, the denial of multiple-entry visas — especially after announcement of the initiative to issue them — causes significant hardship, in addition to hurting Iranian goodwill toward the United States."
The Guardian reported in 2014 that a similar policy was enacted by U.S.-owned education firm Kaplan in the United Kingdom, spurring similar criticism.
Why you should care: By going well beyond its legal obligations to screen Iranian students from classes directly related to nuclear physics or engineering, UMass may be violating the spirit of academic freedom and politicizing its graduate program. Iranian student groups feel targeted by the decision and say that UMass could be setting a dangerous precedent in favor of discrimination.
It's also not the only way the university could meet its legal obligations. Attorney Erich Ferrari told Inside Higher Ed that colleges should evaluate all students on an individual basis to ensure that their course load is "in line with the visa authorizations," rather than implement a blanket ban.