The Story of How Hozier Became Famous Will Make You Appreciate Him Even More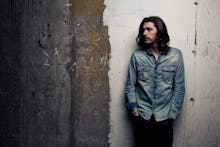 One year ago, Hozier was a 23-year-old Irish singer-songwriter living with his parents and working on a song in the attic. A bit more than a year later, he was at the Grammys playing that song for an audience of legends. It's one of the most unexpected stories in modern music, and it couldn't have happened to a more deserving man.
Ever since the Grammy Awards last week, it seems like all anyone can talk about is a rumored romance between pop princess Taylor Swift and Irish newcomer Hozier. The speculation has been so relentless that many seem to have forgotten how amazing it is that Hozier's music career has gotten to where it is today. People forget just how far he's come in such a short time.
He came out of nowhere. When he recorded the "Take Me to Church," Hozier was struggling. A dropout from Trinity College, Hozier was far out in the Irish countryside trying to find his breakthrough moment. It came late one night when a set of lyrics he'd been working on in his parents' attic about religious discrimination turned into a demo of "Church." The recording gained the attention of famed producer Rob Kirwan, who was so taken with the original vocal that, even when they began reworking the song, he left it intact. "He's got so much soul in his voice, and he's only a youngster," he told Rolling Stone. "He's a bit like Adele where his voice belies his age."
Since the song's initial release as an EP in 2013, that vocal has earned Hozier a nomination for Song of the Year at the Grammys, and won a No. 2 spot on the Billboard Top 100 charts, with a 17-week run at the top of the Hot Rock Songs chart. It was an excellent song with a perfect vehicle. 
The bluesy song, upon first listen, seems simply to be a metaphor in which a man likens his relationship with his lover to a religious experience. But it's more than that. Hozier released a music video through small Irish production house Feel Good Lost that criticized the intolerance and persecution of gay people in Russia and the reality of violent homophobic backlash. The video went viral and has amassed over 114 million views since. It carried the song to fame.
He has a serious social agenda. This video not only put "Church" in a different perspective for people, but it also proved that Hozier is a musician who is vocal about his beliefs and knows he has the power to spark social change. In interview after interview with high profile publications such as the New York Times and Vanity Fair, the singer used his time to talk about his values — not his celebrity crushes. "Growing up, I always saw the hypocrisy of the Catholic church," Hozier told Rolling Stone. "The history speaks for itself, and I grew incredibly frustrated and angry. I essentially just put that into my words."
This candor and ability to weave political and social messages with beautifully crafted melodies is what makes this 24-year-old one to watch. He isn't going to scream in your ear like the politically charged legends of punk rock, but instead appeals to the masses with his bluesy croon. He might be just the guy to get through to people.
"Sexuality, and sexual orientation, regardless of orientation, is just natural," Hozier told New York Magazine. "An act of sex is one of the most human things. But an organization like the church, say, through its doctrine, would undermine humanity by successfully teaching shame about sexual orientation — that it is sinful, or that it offends God." His song and video have resonated with mainstream audiences and even iconoclastic artists everywhere like dancer Ukrainian dancer Sergei Polunin.
What's even better is that the singer (as far as the public knows) is straight. In a time when it seems that mainly gay artists voice their support for gay rights, like Sam Smith and Ty Herndon, it is heartening for those in the LGBTQ community to see such a solid straight ally in the music industry.
Hozier is only in the beginning of his career, so we can expect him to make many more waves with his music and lyrics. But one thing is for sure: Hozier deserves all the fame he's received. With any luck, he won't be going anywhere anytime soon.