Pussy Riot's Newest Song Isn't About Injustice in Russia — It's About America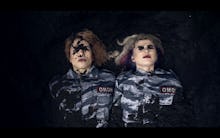 Pussy Riot are at it again, and this time it isn't Russia's Vladimir Putin that they're protesting. The punk group that fought the president and his Russian Spring have now turned their attention to the U.S.
With "I Can't Breathe," the Russian punk-rock feminists pay tribute to Eric Garner, the Staten Island man who was killed in December by the NYPD. Though Pussy Riot usually write songs about Russian oppression in their native language, "I Can't Breathe" is the band's first English-language track. And it's an immensely powerful demonstration of why we need them and their protest music.
Pussy Riot released two jarring music videos to accompany their new song: One shows members Nadya Tolokonnikova and Masha Alyokhina being buried alive, while the other shows footage of the New York protests shortly after Garner's death. 
In a statement Pussy Riot released with the new song, they wrote, "This song is for Eric and for all those from Russia to America and around the globe who suffer from state terror — killed, choked, perished because of war and state sponsored violence of all kinds — for political prisoners and those on the streets fighting for change. We stand in solidarity." 
Pussy Riot are no strangers to fighting for change. They spent almost two years in prison after performing a protest song against Putin in a Moscow cathedral; the official charge against the band was "hooliganism motivated by religious hatred." The band faced harsh treatment during their prison sentence, but it only fueled their fire. 
"We spent two years in prison and we are regularly faced with unauthorized use of force by police in Russia," Pussy Riot told Mashable. "Any one of us can be faced with injustice doled out by the government machine. Take the case of Eric Garner in point. The cop who killed him didn't intend to do so. Nevertheless, this is a life that was lost." 
The band wrote and recorded "I Can't Breathe" in late December, shortly after attending the Garner protests in NYC that helped make "I Can't Breathe" the unofficial slogan behind the movement. For the song, Pussy Riot persuaded punk icon Richard Hell to come out of retirement; his is the voice repeating "I Can't Breathe" 11 times at the end of the song, just as Garner did before his death. Nick Zinner of the Yeah Yeah Yeahs and Andrew Wyatt of Miike Snow also perform on the track. 
It's a powerful show of what protest music can do. But it's an even more powerful reminder of what America can't afford to forget: Black Lives Matter.