17 Photos of the Most Incredible Dogs at the Westminster Dog Show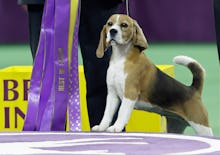 On Tuesday night, the daintily named Miss P, a 15-inch beagle, took home the top prize at the 139th Westminster Kennel Club dog show. 
It wasn't easy. CNN reports that she beat out Matisse, a Portuguese water dog and cousin of presidential pooch Sunny, as well as a Shih Tzu named Rocket, whose owner is heiress and kidnapping victim Patty Hearst.   
Four-year-old Miss P is only the second beagle to win the coveted best in show award at the famed competition. The first was her great-uncle Uno, who defeated his canine compatriots in 2008. Beagles aren't typically given the top spot — the Associated Press reported that the crowd "seemed to loudly gasp" when Miss P's name was called — but this year was different.
Her handler, at least, didn't seemed shocked. "She is a princess," Will Alexander told the AP.
Her time in the limelight isn't over, however. She appeared on the Today show on Wednesday, and she's also set to meet with Donald Trump, dine at Sardi's and wet her paws on Broadway in the musical Kinky Boots, the AP reported.
But what of the other (near) perfect canines? 
1. Chauncey the komondor
2. Charlie the Skye terrier 
3. Liz the English springer spaniel
4. Matisse the Portuguese water dog
5. Flame the standard poodle
6. A Dandie Dinmont terrier
7. Rocket the Shih Tzu
8. A Sussex spaniel
9. Winston the Great Dane
10. Cubit the keeshond
11. Smarty the Maltese
12. Reba the French bulldog
13. A Neapolitan mastiff 
14. Winnie the West Highland white terrier 
15. Claire the Dogue de Bordeaux
16. Paris the standard poodle
17. A Brussels griffon
You're all winners in our hearts, pups.