Missy Elliott Is Back With a Badass New Song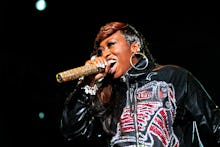 Weeks after her brilliant Super Bowl performance, Missy Elliott has teamed up with Skrillex and Diplo (collectively known as Jack Ü) to remix their dance hit, "Take Ü There." The killer remake features Elliott on two verses, rapping over the instrumentals of the original. And one thing is clearer now than ever before: Missy is back, and she's in fine form.
This collaboration has been rumored since just after Elliott's Super Bowl performance, and Diplo leaked clips of the song on Feb. 11 via Snapchat. It's a clear sign that Elliott can and will modernize her sound. Though Elliott has never dabbled in EDM until now, her performance on "Take Ü There" is a smart move for a hip-hop artist staging a comeback. The track will likely reach a younger audience that knows Recess better than, say, Supa Dupa Fly.
Her comeback is in full force. Elliott has been in the news more and more often lately: Alyson Stoner, the tiny dancer from Elliott's "Work It" music video, released a hip-hop dance video, a Missy montage, to honor her mentor. Elliott also tweeted a picture of herself in the studio with longtime collaborator Timbaland. 
We know that Elliott is working on new music, so consider this badass remix a taste of what's to come. Plus, Misdemeanor retweeted this today:
Consider our fingers crossed.