Geraldo Rivera's Latest Comments on Hip-Hop Are Mind-Bogglingly Offensive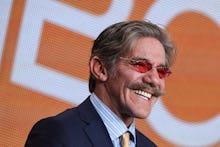 Fox News senior correspondent Geraldo Rivera is no authority on hip-hop culture. But that didn't stop him from saying that the art form has been more damaging to communities than racism itself in a recent HuffPost Live interview. The two-minute rant is one of the most shortsighted summations of hip-hop culture we've heard in a long time. It's honestly mind-boggling.
The clip in question starts around the 22-minute mark. But what really matters is Rivera's confident conclusion: "Hip-hop has done more damage to black and brown people than racism in the last 10 years."
Rivera has no clue what he's talking about. He takes special issue with hip-hop fashion, challenging the audience to find "a youngster, a Puerto Rican from the South Bronx or a black kid from Harlem, who has succeeded in life other than being the one-tenth of one-tenth of 1% that make it in the music business, that's been a success in life walking around with his pants around his ass and with visible tattoos."
You could write an infinite number of very large books about what Rivera is missing there. In a nutshell, he conveniently overlooks every aspect of discrimination, generational poverty and unequal access to education in favor of a racist, reductive description of an art form. He blames the oppressed, repeating the tired "sagged pants" rationale.
But he goes even further. Rivera points the finger at Russell Simmons — whom Rivera describes as a "dear friend" with an impressive "business acumen" — and other hip-hop moguls for encouraging kids to, gasp, not conform. 
"At some point, those guys have to cop to the fact that by encouraging this distinctive culture that is removed from the mainstream, they have encouraged people to be so different from the mainstream that they can't participate other than, you know, the racks in the garment center and those entry-level jobs, and I lament it," Rivera said.
This is not the first time Rivera has spoken about hip-hop fashion in this way. Rivera made headlines in 2012 for saying Trayvon Martin had made himself a target by wearing a hooded sweatshirt. 
"Trayvon Martin, God bless him, an innocent kid, a wonderful kid, a box of Skittles in his hands. He didn't deserve to die. But I bet you money, if he didn't have that hoodie on, that nutty neighborhood watch guy wouldn't have responded in that violent and aggressive way," he said on a Fox and Friends broadcast in March 2012.
After a crafty "sorry, not sorry apology" to listeners he offended with his "crusade to warn minority families of the danger to their young sons inherent in gangsta style clothing; like hoodies," Simmons even called him out. Simmons wrote in the Global Grind: "It's like telling women not to wear skirts because they could get raped. That's what you just did. It's freaking horrible. It's inexcusable."
Infuriatingly misguided. Police are 21 times more likely to shoot black male teens than white ones, according to ProPublica. And not all of those victims were wearing hoodies and baggy pants. Not every hoodie-wearing, hip-hop fan is a murderer or criminal, just like not every person wearing "Muslim garb" at an airport is a terrorist, as Fox News correspondent Juan Williams once he admitted he feels when he worked for NPR. And though most of hip-hop's biggest names today — i.e. Kendrick Lamar, J. Cole, Joey Bada$$, Lupe Fiasco, Questlove and the Roots — all advocate for intellectual empowerment, they're still so frequently stereotyped as being gangster music.
Rivera's comments only add fuel to these misconceptions. Nothing is more damaging to communities of color than racism. Rivera needs to take off his rose-colored glasses and see that truth for what it is.
h/t Huffington Post