An Oscar Voter Reveals Why the Academy Awards Are Kinda Bullsh*t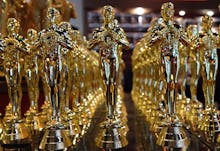 If you're looking forward to this weekend's Academy Awards, you might want to stop reading.
In an interview with the Hollywood Reporter, an anonymous member of the Academy of Motion Picture Arts and Sciences (there are more than 6,100 members in all) revealed that the motivations behind votes can be as callow and petty as not liking a director's political stance or appreciating that a movie star hasn't had a breast lift. The voter, described as a "longtime member of the Academy's 378-member public relations branch," is "brutally honest" about her ballot choices.
Academy voters think Selma was "eh" — and "Black Lives Matter" T-shirts didn't help.
"What no one wants to say out loud is that Selma is a well-crafted movie, but there's no art to it," said the voter. "If the movie had been directed by a 60-year-old white male, I don't think that people would have been carrying on about it to the level that they were." The sartorial activism of the film's cast at Selma's New York premiere was also a put-off, signaling that political activism unrelated to the film may mean an otherwise acceptable film gets shafted. "I've got to tell you, having the cast show up in T-shirts saying 'I can't breathe' — I thought that stuff was offensive," the voter told the Hollywood Reporter. "Did they want to be known for making the best movie of the year or for stirring up shit?"
They vote for the actor, not the performance.
More than once, the voter declared that personal affinity or approval of a particular actor's lifestyle, history or sanity was enough to win her vote. "I'm voting for Michael Keaton [for Birdman] because I love him and for a lot of reasons, not the least of which is he seems like a completely sane person who lives in the middle of the country and works when he wants to work," the voter told the Hollywood Reporter, before declaring that Boyhood's Patricia Arquette got her vote because she didn't appear to undergo any plastic surgery during the 12-year filming period for the Richard Linklater film. "If she had had work done during the 12 years, she would not be collecting these statues," she said in the interview. "It's a bravery reward. It says, 'You're braver than me. You didn't touch your face for 12 years. Way to freakin' go!'"
"Unpleasant" movies don't stand a chance — even if they're genius.
Nightcrawler was a brilliant meditation on media voyeurism and how compromised ethics elevate society's most ruthless members, and has been (justifiably) lauded as Jake Gyllenhaal's finest performance to date. For the Oscar voter, however, "I'm not voting for Nightcrawler — that was really unpleasant."
They don't watch all of the nominees — or even most of them.
The Hollywood Reporter's voter didn't see enough of the best foreign language film nominees to vote, so she abstained. Ditto for best animated short, best documentary short and best live-action short. The so-called "technical awards" for best sound editing and best sound mixing face a similar fate of abstention. "I never vote for these categories because I have no idea what's good sound or bad sound — and believe me, I'm not alone among academy members," the voter told the Hollywood Reporter. 
Many Oscar watchers have long since given up on viewing the awards ceremony as anything more than an extravagant bacchanal held to curry the favor of Harvey Weinstein. For those watching at home under the illusion that the statue will go home with the best nominee, it's important to remind the folks in sweatpants that if their favorite film star doesn't take home a statuette, it's not an indictment of their acting ability. It's just a reflection of the fact that when you get several thousand people into a room and ask their opinion on something as subjective as the relative merit of a piece of cinema, the result is never going to make anyone happy.