These Cuban Twins Are About to Make It Big in American Music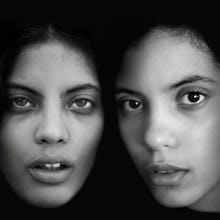 When Lisa-Kainde and Naomi Diaz's father died, the twin sisters were 11 years old. Their father was the famous Cuban percussionist Anga Díaz of Buena Vista Social Club. "I started playing the cajon the day my father died," Naomi recently told the New York Times. "It was unconscious."
Music runs deep in the Diaz family. The cajon, a six-sided wooden box, was Anga's instrument of choice; now, Naomi plays it. She and her sister's first album, the self-titled Ibeyi (ee-bay-ee), was released Wednesday to international acclaim. 
The debut album layers Afro-Cuban religious chants over French jazz stylings, among other fascinatingly inventive juxtapositions. Ibeyi brings localized music into global view and challenges the notion that music can only be popular if it's spoon-fed and easy to digest. The Diaz twins are as unlikely pop sensations as they are a biological phenomenon — but that's exactly where they're heading.
Ibeyi is unlike anything else in music right now, yet it's still generating hype. The twins take cues from French jazz, hip-hop, electronica, soul and Afro-Cuban music. On their debut album, they come out swinging with a little help from Richard Russell, the ingenious producer behind albums by Vampire Weekend, Jack White and Adele. 
Russell owns London-based XL Recordings and is one of the most prolific and influential men in music. With the talent Ibeyi showcase on their album, the twins are going to make a big splash in an otherwise milquetoast field of manufactured pop stars. 
The Diaz sisters celebrate diversity in their music. Though their Cuban heritage takes center stage on Ibeyi, the twins grew up with their mother in Paris, visiting their father in Cuba every year. French jazz influenced Ibeyi, as did artists like Frank Ocean, James Blake and King Krule. Naomi and Lisa have different musical tastes, and their diverse yet balanced stylings make for a distinct sound. 
"I couldn't make an album alone. It would be depressing — nobody would like it!" Lisa told the New York Times. "And if [Naomi] made one, it would be gangster rap and no one would like it." 
But together, their sound is unique. The sisters apply their differences within the music they make and embrace their similarities at heart. Ibeyi is the Yoruba word for "twin." The Yoruba people, from whom the sisters descend, have the highest rate of twin births in the world — around four times higher than anywhere else on Earth, according to the BBC. The sisters' religion and heritage play an important role in their music. They sing some songs in Yoruba and some in English, and those cross-cultural themes permeate the album. 
There's a rich history behind everything they do. Yoruba is the native language of the West African tribe of the same name; in the 18th century, Spanish conquistadors forced the Yoruba into slavery, transplanting much of the culture to Cuba and giving birth to the religion of Santeria. Santeria and Yoruba are intertwined with the music in Ibeyi's eponymous album. The first song on Ibeyi is "Eleggua," named after the Santerian Lord of the Crossroads who marks the beginning of life and therefore the beginning of Ibeyi's album. It's a record that refuses to compromise — a boldly honest piece of music.
On Ibeyi, the twins are opposites in sync. The 20-year-olds have made one of the most talked-about albums of the year. If their debut is any indication of what's to come, it's going to be an exciting ride for Ibeyi — and an important one for our music.