This Adorable Campaign Inspires Black Children by Dressing Them Up as Their Heroes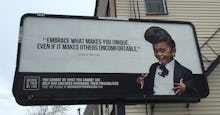 For many kids, imagining what it's like to be one of your heroes is a common inspirational tool. One photo series is allowing them to do just that.
"Because of Them We Can" launched during Black History Month 2013 in an effort to "share our rich history and promising future through images that would refute stereotypes and build the esteem of our children." Founder Eunique Jones Gibson says she saw a need to celebrate inspiring historical figures and help uplift young people — like her two sons — throughout the year. This year, the project is celebrating Black History Month by unveiling one new poster each day in February. 
After last year's campaign, which focused on female role models, took off on social media, "Because of Them We Can" began looking for new ways to spread its impact. Now, its adorable images can be seen on outdoor billboards, the first of which were recently placed in Newark, New Jersey. A representative told Mic the posters will also be coming to urban areas across the country with the specific goal of targeting common routes to school — offering a welcome alternative to the cigarette and alcohol advertising kids might otherwise encounter.
Indeed, inspiring images of possibility are a breathtaking way to fuel anyone's day, especially our children's.