Meet the Lone Star State's Lone Married Gay Couple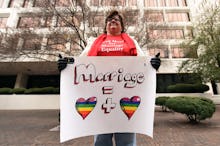 On Thursday morning, Suzanne Bryant and Sarah Goodfriend became the first — and, as yet, the only — legally married gay couple in Texas. 
The pair, who have been together for nearly 31 years, married at the Travis County Clerk's Office in Austin, the Austin American-Statesman reports. Though the state's constitutional amendment banning same-sex marriage was declared unconstitutional by a county judge on Tuesday, the state hasn't begun issuing licenses; Goodfriend and Bryant received a special court order which permitted their union to move forward.
The emergency relief ruling came from state District Judge David Wahlberg, who declared that "the urgency and other circumstances in this case" — Goodfriend was previously diagnosed with ovarian cancer — was enough to warrant an exception, according to the Statesman.
The Statesman also reported that the couple was refused a marriage license in the same spot eight years earlier.
"It's a very, very important day for our family," Bryant told the Statesman. "And it's a very important day for everyone who believes in justice and equality."
The couple's two daughters, Dawn and Ting, were present at the ceremony, as were various friends and acquaintances. After they received their license, the two were married by a rabbi in a short ceremony, the Associated Press reports.
The license's legal standing is still somewhat unclear, as the Texas Attorney General's office asked the state's Supreme Court to stop the motion on Thursday morning. However, the Statesman noted that such a move isn't likely to stick, because the marriage has actually gone through.
"It's very exciting," Bryant told the Statesman. "My little one was worried about missing her history class. I said we'll be making history."
But their success at snagging a marriage license likely won't translate to other Texas couples — at least not yet. Travis County Clerk Dana DeBeauvoir said she issued the couple a license only because the court order directed her to, and "she is not issuing additional marriage licenses to same-sex couples," according to the Statesman.
Another couple, Shellie Shores and Rosemary Wages, traveled to the county offices on Thursday morning with the aim of receiving a license of their own, but were refused, the Statesman reported.
Same-sex marriage is currently legal in 37 states and the District of Columbia. In January, the Supreme Court announced it would hear marriage cases from Michigan, Ohio, Kentucky and Tennessee. If the Supreme Court does rule in favor of those couples, it would effectively legalize same-sex marriage across the country.
h/t BuzzFeed