We Now Know How Many People Could Get Cancer From Soda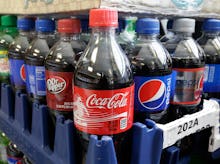 If you're like 48% of Americans, you down at least one soda a day. For thousands of those people, that daily habit may be sending them to an early grave.
According to a new investigation conducted by researchers from Consumer Reports and the Johns Hopkins Bloomberg School of Public Health, between 76 and 5,000 Americans will develop otherwise avoidable cancer from consuming a common soda additive called 4-methylimidazole (4-MeI).
The science: Previous analyses from Consumer Reports have found that 4-MeI is present in dangerously elevated levels as a caramel coloring in several common brands of soda, especially PepsiCo products and Malta Goya. The newest study, published in PLOS One, took 110 samples of soft drinks purchased in California and New York and found that 4-MeI levels ranged from 3.4 to 352.5 micrograms per 12-ounce serving. The state of California currently mandates a cancer warning at levels exceeding 29 micrograms.
Using National Health and Nutrition Examination Survey (NHANES) data, the researchers determined that half of Americans aged 6 to 64 drink soda average about one to 2.5 cans a day. At that level of consumption, the scientists were able to estimate that about 76 to 5,000 excess cases of cancer would result over the next 70 years thanks to the 4-MeI found in soda alone.
"Based on 4-MEI concentrations observed in beverage samples from this study, it appears that 4-MEI exposures associated with average rates of soft drink consumption pose excess cancer risks exceeding one case per 1,000,000 exposed individuals, which is a common acceptable risk goal used by some U.S. federal regulatory agencies," the team wrote in the report. "Specifically, consumption of Malta Goya, Pepsi, Diet Pepsi and Pepsi One resulted in 4-MEI exposures with associated risks exceeding one excess case per 10,000 exposed individuals, suggesting that the risk can greatly exceed this threshold."
"We don't think any food additive, particularly one that's only purpose is to color food brown, should elevate people's cancer risk," Consumer Reports toxicologist Urvashi Rangan said in a statement on the group's website. "Ideally, 4-MeI should not be added to food."
It's time to throw away that six-pack: The outlook is not good for the future of 4-MeI as an additive to soda. PepsiCo has previously insisted that consumers didn't need to worry about their inclusion of the potential carcinogen in its products because most customers drank less than a can a day of Pepsi products. But the current study provides more evidence that 4-MeI has the potential to cause thousands of preventable cancers over the coming decades.
Still, soda isn't the only place you're likely to run into 4-MeI; the researchers note that "additional exposure pathways may include other beverages like beer and blended whiskey; foods like baked goods, gravies, and sauces; and secondhand smoke." But why run the risk of drinking a can a day of Pepsi or Malta Goya if they refuse to modify their recipe?
Let's just add the additive to the gigantic list of reasons why soda is the last thing you should put in your body.
Correction: Feb. 20, 2015