This Doctor Refused to Treat a 6-Day-Old Baby Because She Has Two Moms — And That's Legal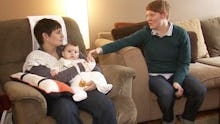 Fox 2 News
Gay and lesbian couples are used to being discriminated against during medical emergencies. After all, it took a presidential mandate to require hospitals receiving Medicaid funding to allow same-sex spouses to stay at their partners' bedsides — and even that policy has loopholes.
But a Detroit couple thought that, whatever bigotry they may have faced in their three years of marriage, their own daughter wouldn't be subjected to the same treatment, particularly when she wasn't even a week old.
When Krista and Jami Contreras were expecting their first child last fall, their midwife recommended a local pediatrician once the baby was born: Dr. Vesna Roi of Eastlake Pediatrics in Roseville, Michigan. "We were really happy with her," Krista told Fox 2 News in Detroit. "The kind of care she offered, we liked her personality, she seemed pretty friendly. She seemed pretty straight-up with us."
Six days after their daughter, Bay Windsor Contreras, was born at home, the newly minted mothers arrived at Eastlake Pediatrics for an appointment with Roi, but were greeted by a different doctor instead. "The first thing Dr. [Melinda] Karam said was 'I'll be your doctor, I'll be seeing you today because Dr. Roi decided this morning that she prayed on it and she won't be able to care for Bay,'" Jami told Fox 2 News. "Dr. Karam told us she didn't even come to the office that morning because she didn't want to see us."
The new mothers were horrified: "It was embarrassing, it was humiliating. and here we are, new parents trying to protect her," Jami said. "And we know this happens in the world and we're completely prepared for this to happen other places. But not at our 6-day-old's wellness appointment." After the appointment, the couple began searching for a pediatrician who wouldn't turn their infant daughter away because she had two moms. "When we started calling other pediatricians my first thing on the phone was, we're lesbian moms — is this OK with you," Krista said.
The couple shared their story on social media, and last week, nearly four months after the initial canceled appointment, Roi reached out to the couple via a letter:
"After much prayer following your prenatal, I felt that I would not be able to develop the personal patient-doctor relationships that I normally do with my patients. We do not keep prenatal information once we have our meetings so I had no way to contact you. ... I should have spoken with you directly that day ... please know that I believe that God gives us free choice and I would never judge anyone based on what they do with that free choice."
It's an unspeakable thing for a doctor to do — but it's also totally legal. LGBT Americans aren't nationally protected from discrimination on any level. The Employment Non-Discrimination Act, a long-proposed, never-passed bill in U.S. Congress, would make it illegal for employers to discriminate against employees based on real or perceived sexual orientation or gender identity, but would not protect the Contreras family from discrimination by a business. Despite a push in December 2014 to pass legislation protecting LGBT Michiganders from discrimination by employers and businesses, that bill remains deadlocked in committee.
Roi may, however, be subject to sanctions from the American Medical Association. The nation's largest association of physicians and medical students has a policy stating that "physicians who offer their services to the public may not decline to accept patients because of race, color, religion, national origin, sexual orientation, gender identity or any other basis that would constitute invidious discrimination."
Although the organization carves out "ethically permissible" exceptions for physicians to decline a potential patient "a specific treatment sought by an individual is incompatible with the physician's personal, religious or moral beliefs," that wouldn't seem to apply in the case of the Contreras family, since the "specific treatment" appears to be any and every treatment of the infant.
"As far as we know, Bay doesn't  have a sexual orientation yet, so I'm not really sure what that matters," Jami told Fox 2 News. "We're not your patient — she's your patient. And the fact is that your job is to keep babies healthy, and you can't keep a baby healthy that has gay parents?"
Whether or not Roi (who has declined to comment to news outlets on the grounds of patient confidentiality) was violating the law by refusing to perform a check-up on a 6-day-old infant isn't in dispute. But Roi's potential ethical violations are murkier to dispel, if one reads the Hippocratic Oath:
"I will remember that I remain a member of society, with special obligations to all my fellow human beings, those sound of mind and body as well as the infirm."
h/t Fox 2 News