The Head of the DNC Just Learned Why Medical Marijuana Supporters Are a Powerful Enemy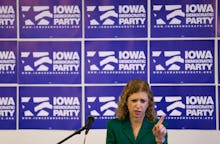 Congresswoman Debbie Wasserman Schultz, the chair of the Democratic National Committee, isn't too difficult to sway — if you agree to stop criticizing her, that is. 
A new report by Politico's Marc Caputo charges that the Florida congresswoman suggested she would shift her current stance on medical marijuana (she's against it) if John Morgan, a big-name political donor and prominent medical marijuana advocate, took back his previous harsh words about her.
Morgan shared a series of emails with the outlet that appear to show the congresswoman's team attempting to orchestrate the deal. The reason? "Morgan said he forwarded the email chain to Politico on Thursday to show how 'thin-skinned' and transactional Wasserman Schultz's political team is, he said in a brief phone conversation," Caputo reported.
"In a tizzy over this Politico story," one email reportedly said. "Saying she might be willing to support new amendment. Any chance you'll retract your statement[?]"
The background: Morgan and Wasserman Schultz first came to blows last June after Wasserman Schultz voiced public criticism for a Florida ballot initiative, funded largely by Morgan, that would have legalized the use of medical marijuana. In response, he told the Miami Herald that she was "despised" and an "irritant," even though he had previously helped raise $250,000 for her. The initiative was narrowly defeated in the November election.
The feud returned anew on Tuesday when reports emerged that Wasserman Schultz was considering a run for Republican Marco Rubio's Senate seat, should he decide to vacate and run for president. The November defeat no doubt fresh in their minds, Morgan and three other pro-medical marijuana groups criticized her again for her comments from June. 
This, apparently, was too much for the congresswoman's team, so they asked Ben Pollara, the director of the pro-medical marijuana group United for Care, to float the idea of a trade-off to Morgan in an email, which he refused and promptly shared with Politico.
"Her days of pushing people around are over," he told Politico.
Who exactly is Wasserman Schultz? As Caputo noted, she's "a nationally known figure, a good fundraiser and would be an early favorite to win a Democratic primary." 
She's led a high-profile political life. She was also a member of the Florida House of Representatives and the Florida Senate, and she appears to be a good contender for Rubio's seat of it becomes available. 
"Of course she's considering it: Open Senate seats are pretty rare," Andrew Weinstein, a Wasserman Schultz supporter, told Politico. "If you're a nationally known candidate with a strong fundraising record and a good relationship with your constituents and supporters, you would definitely look at it."
She's also not pleased that her emails were leaked, and flat-out denied the claims in Caputo's story. She told the Sun Sentinel that the allegations were "outrageous," and added that a supposed deal doesn't exist.  
"I wouldn't change my position in exchange for support under any circumstances – ever," she told the Sun Sentinel. "I stand on principle. I'm always very proud to stand in front of my constituents and explain when I have a difference of opinion with them." She said that one of her staffers had merely contacted Pollara in order to talk through the issue, but that no offer to switch teams had been made.
Marijuana is tricky for the Democratic party. The base mostly supports marijuana legalization: In 2013, 59% of registered Democrats were in favor, according to a Pew Research Center poll. And that number is even higher when it comes to medical marijuana. Party representatives, then, have the difficult job of honoring this support while still remaining relatively conservative when it comes to legalization; they don't want to appear too much like liberal hippies, after all.
Democratic governors, for example, are currently grappling with statewide support for legalization initiatives, and part of it stems from a fear of criticism (particularly from their Republican opponents).
"Either they don't care about it as passionately or they feel embarrassed or vulnerable," Ethan Nadelmann, founder of the pro-legalization group Drug Policy Alliance, told the New York Times. "They fear the judgment. The fear of being soft on drugs, soft on marijuana, soft on crime is woven into the DNA of American politicians, especially Democrats."
While it's unclear whether Wasserman Schultz's battle in Florida is cut from this cloth, her troubles are indicative of the divides present within the party — and it may cause continued problems down the road.
"Almost 58% of Florida voters supported medical marijuana, and I'd be surprised if that many support her," Bill Piper, national affairs director with Drug Policy Alliance, told Politico. "That should be a lesson for Debbie Wasserman Schultz. Florida voters like this policy more than her. And we'll make sure people know her position."
h/t Politico