This Dance Routine Set to Sam Smith's "Stay With Me" Will Blow You Away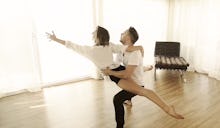 Two professional dancers took Sam Smith's Grammy-winning record, "Stay With Me," and turned it into a beautiful concept video. Emilio Dosal and Kelsey Landers, both products of the reality competition So You Think You Can Dance, choreographed the routine with elements of contemporary, pas de deux and hip-hop dancing, bringing new life to the song.
On YouTube, Dosal said the routine is "simply about love" and "the hardships and decisions you make when you are in love." In the video, the dancers show off impressive leaps and lifts, all while maintaining an emotional connection with each other and with the song. Everything from the dancing to the cover of Smith's chart-dominating song is exactly right:
This is the perfect reimagining. The dance not only illuminates the powerful emotions behind the song, it also broadens its reach even further. The song used in the video is a cover of "Stay With Me" sung by Boyce Avenue, an American band of Latino brothers. The video was produced by Flama, a media website for young Latinos. Smith is a blue-eyed soul singer who appreciates his musical roots, but it's still refreshing to see diversity brought to the song. 
It's a powerful way to revive Smith's record of the year — and a reminder of just how much this song means to so many listeners.