Ingrid Michaelson's New Video Is a Feel-Good Parade of TV Stars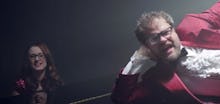 Indie pop darling Ingrid Michaelson released the video for her song "Time Machine" on Thursday. The song is the third single off her album, Lights Out, released in April 2014. In the video, Michaelson is desperately trying to sing her song for the camera, but she's repeatedly edged out by TV sidekicks like Dwight from The Office, Badger from Breaking Bad, Turk from Scrubs and Hurley from Lost. 
It's nostalgic comedy gold.
The "Time Machine" video was created by SoulPancake, a media company started in 2008 by Rainn Wilson (Dwight from The Office). According to their website, "SoulPancake sprang out of the desire to create a space where people from all walks of life could discuss and question what it means to be human." This video may not quite achieve that depth, but it is still an absolute joy — and yet another sign of Michaelson's return to the spotlight.
Lights Out hit No. 5 on the Billboard 200, and critics resoundingly, to their own surprise, loved the album. Michaelson had been out of the spotlight for a while, going without a hit single since the successful "The Way I Am" in 2007. Between this and her catchy and gender-bending "Girls Chase Boys," she's back on top.