Thanks to 'The Imitation Game,' Thousands of Persecuted Gay Men Might Finally Get Justice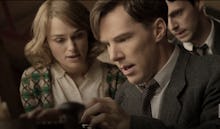 "I would like this moment to be for that kid out there who feels like she's weird or she's different or she doesn't fit in anywhere," Graham Moore, who won the Oscar for his screenplay of The Imitation Game, said in his powerful acceptance speech. "Yes, you do. I promise you do."
Moore's message not only reflected his personal experience — and the experiences of countless viewers — but also was at the heart of the awarded work itself. The Imitation Game depicts the life of Alan Turing, a brilliant mathematician and World War II code-breaker now considered the father of computer science, who was convicted of "gross indecency" in 1952. 
Turing, whose work inarguably changed the course of history by shortening the war and saving countless lives, was criminally convicted and chemically castrated for being homosexual. He committed suicide just two years later. 
In 2013, the British government admitted its egregious error, and Turing was given a posthumous royal pardon. But tens of thousands of other persecuted British men who have not been immortalized by best-selling biographies and Oscar-winning films have yet to be treated in kind. 
Now, LGBT media watchdog GLAAD is taking a stand to grant these individuals the justice they deserve — and more than 525,000 people are standing with them.
"The Imitation Game has helped millions of people see the harms of anti-gay laws, and it's a great example of how a film can move the dial for equality," GLAAD wrote in a Change.org petition. "Now, we must honor the memory of Alan Turing and bring justice to the estimated 49,000 other men who, like Turing, were wrongfully criminalized simply because of who they love. Call on the British government to also pardon these men, who don't deserve to be called criminals because they were gay." 
Turing's family members have supported the petition, as have the film's star, Benedict Cumberbatch, and director Morten Tyldum. Today, the Turing family will put their online activism to real-life action: Turing's great niece, Rachel Barnes, her son and Turing's great-nephew, Nevil Hunt, will deliver the petition, signed by hundreds of thousands, to the British Government headquarters at 10 Downing Street, according to The Guardian. 
Barnes told BBC News that her family has "always considered that it is totally unjust that only Alan was given a pardon," and that the thousands of others — including an estimated 15,000 who are still alive — deserve the same decency. 
It shouldn't take Hollywood glamour or awards show recognition to inspire social justice, but The Imitation Game — from Moore's beautifully adapted script to Cumberbatch's moving performance — demonstrates just how crucial films can be in creating broader change. Done well, movies can be more than just entertainment; they have the ability to change hearts and minds. Hopefully this film and the petition it inspired will do just that by convincing British lawmakers to formally acknowledge that one's sexuality can in no way be considered a crime.