These Are the Victims of Gentrification No One Is Talking About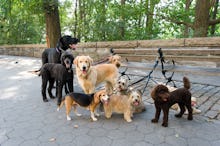 If you're between 18 and 35, there's a good chance you're flocking to one of a handful of cities across the U.S., like San Francisco, New York or Denver. There, you'll likely find all the usual signs of gentrification: craft beer, new restaurants, art galleries, hipsters.
But there's something you might not find.
Dogs and cats. According to several animal adoption groups, as housing markets tighten across the country, a new victim of gentrification is emerging – pets.
The crippling human toll of gentrification is well-documented: as more affluent residents begin moving into a neighborhood, landlords increase rents to force out poor, largely minority tenants who have been part of the community for years. Now, landlords are increasingly using restrictions on pet ownership as yet another way to drive out poorer residents to make way for higher-paying tenants.
Animal experts say the stiff competition for apartments in rapidly gentrifying cities is giving landlords more leeway to pick and choose who they allow into apartments, and who they don't. Often, dogs and cats are the first to go, with landlords forcing owners to either give them up or find somewhere else to live.
"As the housing market tightens up, it's becoming a bigger and bigger problem," Krista Maloney, a spokeswoman for the San Francisco Society for the Prevention of Cruelty to Animals, told Mic. "Housing is the second most common reason, behind allergies, that people give up a pet now."
The extent of the problem: There are no national figures on how many people are being forced to give up pets because of gentrification or restrictive housing policies, but last year the SFSPCA began keeping track of statistics in San Francisco, where gentrification has led to a dramatic increase in housing prices. The average rent for a one-bedroom apartment in San Francisco is now more than $3,000, higher than anywhere else in the country. In some areas experiencing hyper-gentrification, like the Mission District, home prices have gone up nearly 50% since 2004.
SFSPCA found that in the last 12 months, 207 people had to surrender their cats or dogs because landlords would no longer accept them, indicating that the problem is more widespread than previously assumed.
Perhaps unsurprisingly, the SFSPCA says the the greatest number of pets given up because of housing are from the city's most rapidly changing neighborhoods.
Unfortunately, the phenomenon isn't unique to San Francisco.
"Finding affordable housing where you can keep your pet [often means] not being able to keep your animal no matter where you are," Emily Weiss, senior director of shelter research at the American Society for the Prevention of Cruelty to Animals, told Mic.
A problem for cities: Most cities are experiencing rising housing costs. According to a Harvard study from 2013, almost half of all renters now spend at least 30% of their income on housing. The factors leading to so many Americans being "rent-burdened" are complex, but the main reason centers on the increased demand for housing, as vacancy rates remain in the low single digits in many cities.
In New York, experts say the situation is particularly bad, and getting worse.
"Maybe 4 out of 10 people who come in are dealing with the issue," Sandra DeFeo, the director of the Humane Society of New York, told Mic.
It's worse for low-income people, DeFeo said, especially those who live in city-subsidized housing. New York City Housing Authority-run housing enforces breed restrictions and a weight limit of 25 pounds.
Know your rights: Part of the problem, according to pet rescue experts in New York and elsewhere, is that people don't know their rights as tenants. In New York, for example, if a landlord, or anyone else who works in the building, sees your pet and doesn't do anything about it for three months, the pet is free to stay forever. In the Bay Area, service animal laws apparently make it relatively easy to get around no-pet clauses.
In some cities, even rapidly gentrifying ones, it appears as if landlords are a little more accommodating. Joyce Martin, director of Austin Dog Rescue in Austin, Texas, said that most apartments in the city allow dogs, but there are an increasing number of breed restrictions.
Extraordinary times for renters also require extraordinary measures for pets, the SFSPCA says. Maloney said the best thing prospective renters can do is draft a "pet resume" to let landlords know your pet is well-behaved. It might even be helpful to include references and cute photos. Then, she says, make sure to sign a lease that explicitly stipulates the pet is allowed to live in the apartment.
"It sounds a little ridiculous," she said. "But in a housing market like this, you have to take extreme steps."