The Predictability of Oscar Predictions (with Predictions)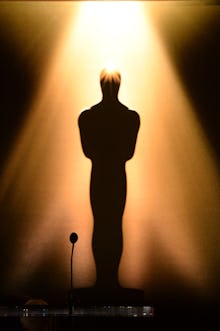 The Academy Awards are this weekend, which means that we're just two days away from Larry — the shy, dandruff-headed cinephile in the accounting department — collecting $150 from the cross-cubicle Oscar pool for having correctly guessed all of the night's winners.
Oscar predictions are nothing new: Between the Super Bowl and March Madness, the silver screen has long been the hot pot in Vegas (this year, the Wynn casino has Birdman or (The Unexpected Virtue of Ignorance) going at even odds for Best Picture). GoldDerby, Tom O'Neil's prediction aggregate site, has been calling the award show's outcome since 2000. Entertainment Weekly has published its "Oscar Odds" issue every February since the magazine's inception in 1990. In the 1980s, Gene Siskel and Roger Ebert used to select their own Oscar victors in an annual television special called Siskel and Ebert: If We Picked the Winners (episodes can be found in full online).
Predicting the Academy Awards has become as much part of the Oscar tradition as the red carpet pre-game. Sure, the Oscars are about masturbatory cinematic celebration, but they're also about filling out printable ballots with the hope of garnering some extra pride around the office (and finally beating Larry). 
Over the past decade, however, the evolution of social media has amplified the voices participating publicly in this prognostication game. In some cases, the additional voices actually add insightful commentary to the win-or-lose debate, such as Mark Harris' column in Grantland, or that of Peter Knegt, at IndieWire, who does a weekly prediction update beginning in March of the year prior to the relevant award season (i.e., his predictions for 2016 should be coming in shortly). In most cases, though, what we're experiencing is the vapid influx of obvious opinions not only from Twitter and Reddit ("Snubbed again, Leo!"), but from our top critics, who simply seem to be capitalizing on the ease and appeal of the exercise.
The prediction lists come off pro forma: "Here's who will win." "Here's who might win." "Here's who really deserves it." One Harvard senior recently stepped up the game and actually run a statistical model to cobble the answers together. This young Nate Silver, using a strategy Silver introduced in 2013, has run regressions to show how the Oscar winners correlate with other award show winners (duh). He also applauds himself for guessing Meryl Streep's 2012 "upset."
Although we should be thrilled to see so many people discussing film, the Web has become saturated with so many of these undignified conjectures that by the time the show actually comes up, we're all already exhausted by the whole subjective, self-affirming affair. By then, a clear consensus regarding most of the prizes already seems to have been reached. Why even bother to watch? Might as well flip over to AMC to see what's happening on The Walking Dead instead.
What's even more concerning is how all this preordaining is actually affecting the opinions of the roughly 6,000 Academy voters. I like to think it doesn't, because I can't bear the idea of Academy voters making their calls the same way the layman critic does: by quickly scanning the Hollywood Reporter or BuzzFeed (though, Scott Feinberg's "Brutally Honest Ballot" in the Hollywood Reporter gives me hope that voters are actually making independent choice). Think of it this way: Julianne Moore's Best Actress win has been declared inevitable since Still Alice was released. But when she wins (and she will win), will it be because the Academy members independently came to the same decision? Or has all the hubbub drowned out any room for the exquisite Marion Cotillard to even be considered? It's hard to tell.
The whole point of the Academy Awards (whether it actually plays out this way or not) is that winners are chosen by the people who are at the vanguard of their respective craft in the industry: Sound mixers nominate the best sound mixers, editors nominate the best editors, actors by actors, etc. The Academy recommends that if a member does not have a solid grasp of a field, they should abstain. Certainly any one craft can get stuffy in their opinions if they are stuck in an echo chamber, but outsiders still ought to take similar caution before voicing their opinions. Do you really feel qualified to tell us which film cast had the best makeup?
Take, for instance, this year's race for Best Animated Short. Disney's Feast is the nominee that everyone has been talking about. It's also the only nominee that was widely released (showing before Big Hero 6 in theaters) and, if you actually watch the other four (which are difficult to find if you were not sent a screener like the Academy members), it's probably the least interesting of all of them. The Dam Keeper — "a dark, hand-drawn tale about a village of anthropomorphic animals whose title character is a lonely and bullied pig who maintains a windmill that protects the town from pollution," per GoldDerby.com — is a hell of a lot more inspired. 
All that is to say is that while it has become annoyingly easy to predict Oscar predictions, the awards themselves can still (thankfully) surprise us. Who honestly thought Shakespeare in Love would winning over Saving Private Ryan in 1999? How lucky were those imbeciles who closed their eyes, pointed, and made a hundred bucks off Crash beating Brokeback Mountain in 2006? How many people sat in front of their TV that same March night and thought, "Three-Six Mafia is a lock."
The awards we remember are the ones that went against popular opinion — DiCaprio gets martyred and Meryl Streep gets written off. Not that upsets are common; they're not. But the possibility that the Academy, however questionable their expertise, can make such radical decisions is what makes watching the Oscars so fun (for at least the first 15 minutes, until the foregone conclusions prove true).
So without further ado, here are my 2015 Oscar predictions, which, for the sake of surprise, I hope are wrong. Subjective confidence is given parentheses. For those of you who skimmed the paragraphs above to find the list so that you could double-check your own ballot before the big show comes on: Welcome!
Best Animated Short: The Dam Keeper (6/10)
Simply charming. 
Best Documentary Short: Crisis Hotline (2/10)
Melancholy reigns through the five nominees here. From GoldDerby.com: "Joanna is about a dying Polish woman trying to impart her sense of goodness to her 5-year-old son in the months she has left. Our Curse is about a couple who have learned that their baby son has a mental disorder that will require him to sleep with a ventilator for the rest of his life. White Earth is about the forlorn children of oil field workers in frigid North Dakota. The Reaper is about a Mexican slaughterhouse worker trying to find inner peace to balance his daily repulsion. Compared to those, the likely favorite Crisis Hotline: Veterans Press 1 is a feel-good movie. Set in a crisis center whose trained responders are trying to talk suicidal callers off the ledge, the triumphs here are measured by the joy that comes with the successful interventions, and we are uplifted by the humanity on display."
Best Live Action Short: The Phone Call (4/10)
Boogaloo and Graham could snag the win for its endearing tale involving children and chickens, but Sally Hawkins' performance in The Phone Call (online here) has probably sewn this one up.
Best Sound Mixing: Whiplash (5/10)
First, real quick, let's suss out the differences between this category and the next. Best Sound Mixing rewards the overall soundscape of the film. Everything you hear in the film has to be mixed together and set to certain levels, to the director's specifications, and that job falls to the sound mixers. Interstellar's nomination here has proved somewhat controversial, because that film's dialogue was famously difficult to understand due to the booming noise from other parts of the soundtrack.
Best Sound Editing: American Sniper (7/10)
Best Sound Editing, which used to be called "Best Sound Effects Editing," awards the best sound effects created. This is given to the people who stomp around on foley stages and make out with their hands. War movies like American Sniper, with the many layers of guns and artillery blasts, have historically done very well in this category.
Best Makeup & Hairstyling: Elizabeth Yianni-Georgiou and David White, Guardians of the Galaxy (7/10)
I would be happy to see Guardians of the Galaxy take home a prize. It could've (and should've) been nominated for Best Picture. Steve Carrell's nose in Foxcatcher is the one thing holding it back for this.
Best Visual Effects: Interstellar (9/10)
I mean, come on.
Best Original Song: "Glory," Selma (6/10)
"Lost Stars" deserves it, but you know: John Legend. But as comeuppance for its non-nomination for Animated Feature, I'm pushing for The LEGO Movie to take this home.
Best Original Score: Jóhann Jóhannsson, The Theory of Everything (6/10)
I wouldn't be surprised if Desplat pulled through for either of his nominations.
Best Costume Design: Milena Canonero, The Grand Budapest Hotel (6/10)
Inherent Vice would be nice. Colleen Atwood for Into the Woods could pull through here too; both she and Canonero have three Oscars to their names already.
Best Production Design: The Grand Budapest Hotel (9/10)
This has long been overdue to Wes Anderson for his films' geometric, primary-colored aesthetic.
Best Film Editing: Sandra Adair, Boyhood (6/10)
Whiplash was very well edited, but Boyhood was a unique job. Cutting 12 years of footage down to a decent length could not have been easy.
Best Cinematography: Emmanuel Lubezki, Birdman or (The Unexpected Virtue of Ignorance) (8/10)
Russian Ark might have done a more the single-take film first, but it's hard to deny the genius behind Lubezki's photographic choreography. That said, once you get past this intoxicating trick, this really should go to Dick Pope for Mr. Turner. His work is as stunningly radical as the film's namesake.
Best Documentary Feature: Citizenfour (9/10)
Not the most entertaining doc here, but the risk and historical salience of this Laua Poitras' film is irresistible.
Best Foreign Language Film: Ida (6/10)
Like last year's The Great Beauty, here's a foreign film that should have gotten nominated for Best Picture: the control, the cinematography, the acting. Andrey Zvyagintsev's Leviathan is a bravely confrontational drama, but not especially original in its artistry and not as immediately visually and tonally distinctive as Ida is. If you are averse to subtitled, black-and-white films, Ida (which is on Netflix!) will change your mind.
Best Animated Feature: Big Hero 6 (6/10)
Peter Debruge did a good write-up for Variety on the reason for The LEGO Movie's obvious absence. Essentially, the Academy's Animators' branch much prefers handmade work, which would explain the quieter nominations of Song of the Sea, The Boxtrolls, and The Tale of Princess Kaguya. There simply wasn't the space for a nontraditional animated feature like The LEGO Movie. The full Academy will vote on the final ballot, however, which is why something popular but still traditional like Big Hero 6 or How to Train Your Dragon 2 is likely to win.
Best Adapted Screenplay: Graham Moore, The Imitation Game (4/10)
Again, Whiplash is the trump, but I hope I'm wrong on both counts and Inherent Vice pulls through. As Anthony Lane put it in his review of the latter, "The adaptation alone deserves an award for valor. Nobody has ever turned a Pynchon book into a movie before, for the same reason that nobody has managed to cram the New York Philharmonic into a Ford Focus."
Best Original Screenplay: Wes Anderson & Hugo Guinness, The Grand Budapest Hotel (8/10)
Boyhood wasn't much of a screenplay film. It was, like most Linklater productions, a sincere effort in ad lib and naturalism. Birdman or (The Unexpected Virtue of Ignorance) was clever but nowhere near as clever as The Grand Budapest Hotel.
Best Supporting Actress: Patricia Arquette, Boyhood (9/10)
Mom gets this one. She let the world watch her age over a decade, and it was sad and beautiful.
Best Supporting Actor: J.K. Simmons, Whiplash (9/10)
The movie itself is full of clichés, and is (according to my saxophonist friend) a high schooler's interpretation of what jazz school must be like: "The drumming wasn't even good." All that is to say that Simmons rescued the trite darling with his usual alertness and wit.
Best Actress: Julianne Moore, Still Alice (10/10)
No debate here, but maybe there should have been.
Best Actor: Michael Keaton, Birdman or (The Unexpected Virtue of Ignorance) (5/10)
Eddie Redmayne is the trump, especially after his SAG win, and probably deserves it more (though, and most will disagree with me on this one, not as much as Steve Carell does). Still, Keaton is playing right to the insecurities of the artists voting for him, which I think could be enough.
Best Director: Richard Linklater, Boyhood (8/10)
Few films have been so ardently fathered the way Boyhood was. I wouldn't be surprised if the Academy's director's branch favored Iñárritu by a slight margin here, as his DGA win suggests. But because the entire Academy votes on the final ballot and because they're mostly suckers for classic filmmakers, this is easily Linklater's for the taking. The Best Director award is meant for the person whose film was most visionary — the director who successfully questioned the fundamental way in which we watch films. To his credit, Iñárritu (not to mention Anderson) has absolutely challenged cinema, but here's a man who has pushed the art not with technology or high production value, but simply with patience and a single, enduring thought.
Best Picture: Boyhood (6/10)
I would push higher on this, but after seeing  Birdman or (The Unexpected Virtue of Ignorance)  take home best ensemble at the SAG awards, I'm viewing it as less of the underdog it originally was.  Boyhood  is not a perfect film by any stretch. Terrence Malick's  Tree of Life  was able to pull off Texas-boyhood naturalism without the dated references (except the dinosaurs, of course) or the obtrusively precious dialogue ("You know how everyone's always saying seize the moment? I don't know, I'm kind of thinking it's the other way around, you know, like the moment seizes us"). But still, the competition was equally faulted this year. Best Picture? Maybe.
Editor's Note: Feb. 21, 2015
Due to an attribution error in the editing process, a previous version of this story did not include quotations around the phrase "a dark, hand-drawn tale about a village of anthropomorphic animals whose title character is a lonely and bullied pig who maintains a windmill that protects the town from pollution" from the website cited and linked earlier in the article, GoldDerby.com. Additionally, language from GoldDerby.com was used without attribution to describe the nominees for best documentary short. The article has been updated to fully attribute the GoldDerby.com language.