The New Saudi King Is Kicking Off His Reign With a $32 Billion Gift to His People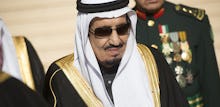 There ain't no party like a royal party — because a royal party gives away $32 billion.
Newly crowned Saudi Arabian monarch King Salman bin Abdulaziz Al Saud is cementing his rule with a massive $32 billion handout to average citizens. 
According to Vice, the beneficiaries of King Salman's largesse include "all state employees, soldiers, students, and pensioners, as well as generous grants to various professional associations, and literary and sports clubs." Individuals receiving the bonuses will get the equivalent of two months' pay.
Who will get the money? Since around 3 million of the nation's 5.5 million-strong workforce work for the government, the torrent of money will enrich Saudis from all sectors of society. Vice reports that some private employers have even followed the new king's lead and announced their own bonus programs.
"It is party time for Saudi Arabia right now," Ashmore Group Middle East director John Sfakianakis told the New York Times. He added that average government salaries fall around $2,400 a month, but some experienced employees can earn up to $4,800 or more. That means many Saudis will be receiving bonuses of between five and ten thousand dollars, which on its own would greatly exceed the GDP per capita of many poorer countries. 
Why is this happening? The funds are apparently intended to help smooth over any political difficulties that may arise during the transition period following the late King Abdullah bin Abdulaziz Al Saud's death in late January. On Twitter, King Salman announced that "Dear people: You deserve more and whatever I do will not be able to give you what you deserve":
Patronage is a time-honored Saudi government tactic, and it's one that's apparently working. Vast oil profits have enabled the reigning monarchy to buy influence among the population for decades, and the new bonuses are among the most generous such subsidies in the country's history. The New York Times reports that many citizens and companies are "repaying government generosity with public displays of fealty" such as billboards proclaiming "we pledge allegiance to you, hearing and obeying" or taking to social media to flaunt the cash.
One Saudi man uploaded a video of himself showering his baby in riyals:
Another comedy video played on the atmosphere of jubilation, joking that even old men were brought to dancing by the announcement of the bonuses:
Can Saudi Arabia really afford this? Though falling oil prices have badly hurt the kingdom's finances, leading to what Jadwa Investment analyst Rakan Alsheikh estimated was a $44.5 billion deficit, the New York Times also reported that Saudi Arabia's $700 billion in foreign reserves ensures that the handouts won't put much of a dent in the national budget.
While now might be a particularly lucrative time to be a Saudi citizen, don't get too jealous. The country's monarchy continues to commit horrible human rights abuses including systematically depriving its people of basic civil rights. Other Saudis might be less than overjoyed with the government transition, which has coincided with an ongoing spike in the number of death sentences handed down by the country's infamously harsh legal system for crimes ranging from murder to "sorcery." But even for citizens of the kingdom languishing in prison, there's a silver lining; Saudi-owned al-Arabiya reports that some inmates are having their sentences commuted as part of the deal.
Correction: Feb. 24, 2015
h/t Business Insider