The Internet's Perfect Reactions to Every Oscar Winner, in 24 Tweets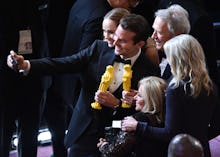 After nearly four hours, the Academy Awards are finally over. We laughed! We cried! We joked about John Travolta violating personal space! And, most importantly, we tweeted.
Some people watch the Academy Awards because they're hoping for fashion tips; others because they're hoping to win the office pool for when Jennifer Lawrence is going to trip this year. For most of us, however, the Oscars are a golden opportunity to alternately snark and applaud the Hollywood elite from the comfort of our living rooms. Before the rise of social media, America's most hilarious bon mots were wasted on unappreciative family members, friends or house pets (a moment of silence for the millions of brilliant takes on Björk's swan dress that disappeared, unrecorded and unnoticed, into the ether of neighborhood viewing parties in 2001). With the rise of Twitter, now everyone in the world can fav and retweet your idle jokes and commentary. In the future, we're all Giuliana Rancic!
Although there's nothing so ephemeral as a successful tweet, these 24 reactions to each of the Academy Awards' winners are the brightest stars in the Oscars constellation. They're an assortment of comedy, drama and insanity worthy of a silver screen debut all their own.
Best Supporting Actor
Best Costume Design
Best Makeup and Hair Styling
Best Foreign-Language Film
Best Live-Action Short Film
Best Documentary Short
Best Sound Mixing
Best Sound Editing
Best Supporting Actress
Best Visual Effects
Best Animated Short
Best Animated Feature
Best Production Design
Best Cinematography
Best Film Editing
Best Documentary
Best Original Song
Best Original Score
Best Original Screenplay
Best Adapted Screenplay
Best Director
Best Actor
Best Actress
Best Picture