In One Instagram, Reese Witherspoon Just Took Down the Absurdity of the Red Carpet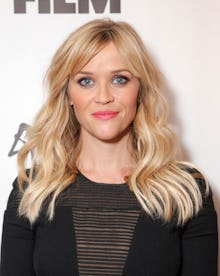 There's nothing wrong with celebrating pretty dresses on Oscar night — so long as reporters take care to celebrate the women wearing them too.
That's the thinking behind #AskHerMore, an empowering hashtag that has taken Twitter by storm in the lead-up to Sunday's Academy Awards and sparked an invaluable conversation about red carpet sexism.
Reese Witherspoon, a best actress nominee for Wild, joined the rally against the media's treatment of female celebrities before the ceremony even officially began by posting the following to Instagram on Sunday afternoon:
Witherspoon accompanied the post with the following explanation: 
<3 this movement #AskHerMore..have you heard of it? It's meant to inspire reporters to ask creative questions on the red carpet. I love the Oscars AND fashion like many of you - & am excited to share #WhoAmIWearinglater tonight. (not yet!!) But I'd also love to answer some of these Qs....And hear your suggestions?! (Share em below!) There are so many amazing, talented nominees this year..! Let's hear their stories! Spread the word. #AskHerMore #Oscars #Countdown
The #AskHerMore campaign was launched as a hashtag by the Representation Project in the lead-up to the 2014 Oscars. In February 2014, the nonprofit wrote on its blog, "We're using the hashtag on Twitter to send suggested questions to reporters, in real-time, whenever they risk devaluing the accomplishments of women in Hollywood, and to spark deeper conversations in front of a national television audience."
This year, multiple celebrities and organizations have joined forces with the Representation Project to make sure the red carpet focuses on more than women's appearance on awards night. Makers even compiled a list of potential questions to ask actresses that relate to their projects rather than fashion choices. "This year's Academy Awards honor women in an incredible variety of roles," the organization wrote on its website, "and the red carpet should reflect that."
In addition to drawing attention to a worthy cause, Witherspoon makes a great point with her post. #AskHerMore isn't about shaming people for enjoying fashion but rather about reminding people that women are so much more than what they wear.