#AskHerMore Stood Up to Hollywood's Treatment of Women — Here's What Happened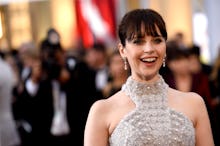 Actresses walk the red carpet because of their work, but that doesn't stop them from being badgered every year at the Oscars with sexist and shallow questions on the red carpet that reduce them to only their looks and clothing choices.
Luckily, this year things were different. Celebrities and Oscar viewers alike expressed their frustration with sexism at the Oscars using the fabulous #AskHerMore Twitter campaign.
#AskHerMore was originally launched by the Representation Project before the 2014 Oscars, but went viral this year when organizations like MAKERS and Amy Poehler's Smart Girls supported the hashtag. And, though there were certainly some notable exceptions — including Ryan Seacrest's inane questions about frittatas and pets — entertainment reporters largely listened to the public's calls for more substantive discussion this year. Who said hashtag activism doesn't work?
Even when reporters failed their subjects, plenty of celebrities successfully redirected the conversation instead of playing along:
Two stars emerged from the hashtag as well. First, Robin Roberts explicitly talked about the importance of #AskHerMore on national television:
Second, Reese Witherspoon, who showed her support of the hashtag before the festivities even started, discussing the movement openly on the red carpet:
Roberts, Witherspoon and countless other reporters and female celebrities alike clearly decided enough was enough, and made this year's red carpet an opportunity to remind viewers that actresses are not props of the Oscars: They are artists, whose work is worthy of recognition and substantive discussion.