Emma Watson Just Showed Everyone That Red Carpet Fashion Can Make a Powerful Statement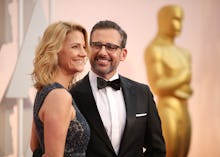 In case you thought the Oscars red carpet was just about glittering for the cameras and name-dropping designers, Emma Watson just showed everyone that red carpet fashion can make a powerful statement.
The actress took to social media on Sunday to thank actors Steve Carell and Jake McDorman for wearing special #HeForShe cufflinks on the red carpet, in a show of support for the United Nation's HeForShe campaign for gender equality.
The simple two-arrow design of the cufflinks, created in collaboration with jewelry designer Monique Péan, sums up the founding principle of HeForShe: That men are just as much a part of of the fight for gender equality as women. Watson highlighted this message in a captivating speech before the U.N. back in September, telling the esteemed audience:
"It is time that we all see gender as a spectrum instead of two sets of opposing ideals. We should stop defining each other by what we are not, and start defining ourselves by who we are. [...]
I want men to take up this mantle so their daughters, sisters and mothers can be free from prejudice but also so their sons have permission to be vulnerable and human, too and in doing so, be a more true and complete version of themselves."
Having men bring the HeForShe message to the Oscars red carpet, a place where the differing treatment of men and women has become glaringly obvious in recent years, is an especially powerful move. 
More and more viewers have been calling out the sexist questions female celebrities get asked which focus exclusively on their clothing rather than the kinds of substantive topics male celebrities are asked. This growing scrutiny is the force behind #AskHerMore, a viral campaign that highlights the kinds of accomplishments and topics that women should be asked about on red carpets, but aren't.
With their stylish HeForShe cufflinks, Carell and McDorman are subverting the obsessive focus on fashion to highlight the very substantive issue of gender equality — and are reminding us in the process that there are some fashion statements that are worth paying attention to.