One Quote Shows Why Reese Witherspoon Is the Real Winner of the Oscars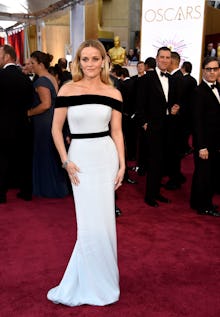 "This is a movement to say we're more than just our dresses. ... It's hard being a woman in Hollywood or any industry."
With that, Reese Witherspoon stole the show at the Oscars. The actress made the smart quote while speaking with ABC's Robin Roberts on the red carpet, using the interview to remind the media that actresses should be celebrated for more substantive accomplishments than how they fit into dresses.
Witherspoon had also posted her support for the #AskHerMore campaign on Instagram earlier in the day on Sunday. This inspiring movement encourages reporters to ask female celebrities about more than their fashion choices on the red carpet. "There are so many amazing, talented nominees this year," Witherspoon wrote in her Instagram post. "Let's hear their stories!"
Major props to Witherspoon for continuing to highlight such an empowering campaign. Whether or not she takes home an award for her supporting actress role in Wild, she's the real star of the night.