John Legend and Common's Oscars Speech Is Even More Powerful Than Their Performance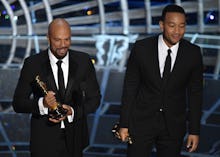 John Legend and Common just took to the Oscar stage to deliver what was, hands down, the most powerful performance of the night. The artists performed their song "Glory" in front of a mock-up of the infamous Edmund Pettus Bridge — the site where peaceful protesters were brutally attacked by the police during the Montgomery marches of 1965.  
The song, which plays over the closing credits of Selma, is an incredibly timely comment on racism, both past and present, and contains lyrics like:
Justice for all just ain't specific enough / One son died, his spirit is revisitin' us
The performance was so stirring that it moved multiple audience members, including Selma star David Oyelowo, to tears.
But the most moving moment came after the two had finished the song. Legend and Common were subsequently awarded the Oscar for best song, as expected, and used their acceptance speech to offer an eloquent address of modern racism.
Common began:
"Recently, John and I got to go to Selma and perform 'Glory' on the same bridge that Dr. King and the people of the civil rights movement marched on 50 years ago ... This bridge was built on hope. Welded with compassion. And elevated by love for all human beings."
Legend continued:
"Nina Simone said it's an artist's duty to reflect the times in which we live. We wrote this song for a film that was based on events that were 50 years ago, but we say Selma is now, because the struggle for justice is right now. We know that the voting rights, the act that they fought for 50 years ago is being compromised right now in this country today. We know that right now the struggle for freedom and justice is real. We live in the most incarcerated country in the world. There are more black men under correctional control today than were under slavery in 1850. When people are marching with our song, we want to tell you that we are with you, we see you, we love you, and march on."
Speaking those words in front of an audience of millions — now that is something to applaud.