Lady Gaga's Oscar Performance Just Silenced the Haters — And Blew Julie Andrews Away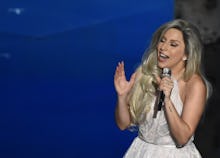 The most surprising moment of the 87th Academy Awards wasn't an awards snub, a teleprompter gaffe or a wardrobe malfunction. It was Lady Gaga. 
On Sunday night, Gaga came out on stage, voice first, in a tribute to the 50th anniversary of The Sound of Music — and if the Oscars announcer hadn't said her name first, you might not have realized it was her. Gone was the pop star who growled her way through "Poker Face" in avant-garde outfits. Instead, Gaga came out belting notes we didn't know she was capable of. 
The pop star crooned her way through our favorite Sound of Music classics, from "Edelweiss" and "The Hills Are Alive" to "Favorite Things" and "Climb Every Mountain." And she totally nailed it.
If Gaga's voice was sounding better than ever, Twitter's breath was a bit taken away. Responses were mixed at first...
...until Julie Andrews took the stage and formally gave Gaga's performance her stamp of approval. "Dear Lady Gaga," said Andrews, in what might be the most surprisingly endearing line of the night, "thank you for that wonderful tribute. It really warmed my heart, it really did."
They embraced, they cried and then so did all of us at home. And we finally agreed, once and for all, that Lady Gaga can seriously sing.