Watch John Legend and Common's Moving Performance of 'Glory' at the Oscars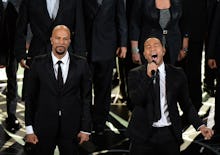 Neil Patrick Harris kicked off his Oscar-hosting duties on Sunday night by joking, "Tonight we celebrate Hollywood's best and whitest — sorry, brightest." And he was right: This year's Academy Awards were the least diverse since 1998.
But it wasn't without its high points. When Common and John Legend got their chance to perform Oscar-nominated song "Glory," they used it for all it was worth. They delivered a forceful performance that left many in tears.
Common and Legend performed with an all-black choir that marched across a set of the Edmund Pettus Bridge, which leads into Selma, Alabama, and is a key part of the route that Martin Luther King, Jr. took on his famous march into the city. At the end of the performance, John Legend stood before an gospel choir and belted the outro a cappella. 
There was no question that this was the best moment of the night — and the best movie song of the year. Shortly after the performance, the Academy presented Common and Legend with the award for best original song. The duo's subsequent acceptance speech was one of the best of the night and an opportunity to speak out about the politics of minority rights. 
"We know that right now the struggle for freedom and justice is real," Legend told the audience. "We live in the most incarcerated country in the world. There are more black men under correctional control today than were under slavery in 1850." 
That quote perfectly crystallized the song's intention: to show how deeply engrained racism still is in American culture.
"Common threw out some title ideas and one of them was 'Glory,'" Legend told Rolling Stone in speaking about the process behind the song. "As soon as I heard that word, it inspired me to write the chorus. I really thought about the music I grew up on, which was gospel music, and how important it was in the civil rights movement." 
"Glory" is steeped in traditionally black musical forms — equal parts gospel and urgent rap. In bridging that musical gap, it spans a historical one too. It not only harkens back to the music of the civil rights movement, but it's also become an anthem for recent marches in support of the slain African American men Eric Garner, Michael Brown and Trayvon Martin. "Resistance is us / That's why Rosa sat on the bus / That's why we walk through Ferguson with our hands up," Common raps on "Glory." 
Common and Legend's performance was a much-needed point of diversity for the gilded ceremony. Still: Not a single African American won a major award on Sunday night. In addition to celebrating an amazing performance and politically powerful acceptance speech, we should take "Glory" to heart and fight for the equality it urges.