An Unexpected Therapy for Alzheimer's Is Gaining Major Traction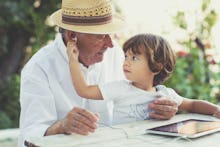 At Sunday night's Academy Awards, country musician Tim McGraw performed the song "I'm Not Gonna Miss You" from the 2014 documentary Glen Campbell... I'll Be Me. Country legend Glen Campbell originally performed the song, which was nominated for best original song. But he was unable to appear Sunday night because he's in the late stages of Alzheimer's disease. 
"I'm Not Gonna Miss You" was Campbell's final recording before he checked into a full-time care unit in April 2014, and the song deserves the largest stage it can find. Alzheimer's is the sixth leading cause of death in the United States. While most people know the devastation Alzheimer's wreaks on the life and family of those affected, fewer people know that a simple therapy is making waves in medical communities: Music. This unexpected therapy is proving exceptionally effective in helping to improve the quality of life for people with Alzheimer's. And everyone has access to it.
Music has a deep connection to memory. In his book Musicophilia, neurologist Oliver Sacks writes, "The response to music is preserved, even when dementia is very advanced. The aim of music therapy in people with dementia seeks to address the emotions, cognitive powers, thoughts and memories, the surviving 'self' of the patient, to stimulate these and bring them to the fore. It aims to enrich and enlarge existence, to give freedom, stability, organization and focus." 
It has powerful effects. Even when Alzheimer's patients are deep in the throes of the disease, music can help them retrieve long-lost memories and emotions. "Most people associate music with important events and a wide array of emotions," the Alzheimer's Foundation of America says on its website. "The connection can be so strong that hearing a tune long after the occurrence evokes a memory of it." 
Remembering those fleeting emotions, even for a moment, can improve patients' quality of life. Dr. Frederick Schaerf, founder of the Neuropsychiatric Research Center of Southwest Florida — formerly of Johns Hopkins University — is one of the only physicians in the country who actually "prescribes" music to patients with Alzheimer's. "I think we shouldn't ignore the non-pharmaceutical, non-medical, traditional approaches," Shaerf said in an interview with Mic. 
A number of recent studies support Schaerf's methods, including findings that when the brain hears music, it comes alive with activity and releases significant amounts of dopamine, the chemical that regulates the brain's reward center. Dopamine boosts significantly improve a patient's mood by connecting him with positive memories, and though a patient might be practically comatose and unable to communicate, upon hearing music, he taps his toes and sometimes even sings along.
These outcomes have received some popular traction. In the award-winning documentary Alive Inside, when Henry, a man in the late stages of Alzheimer's, hears familiar music, his communication improves almost instantly. Amazingly, he continues to communicate better even after the music is gone. 
"The effect of this doesn't stop when the headphones are taken off," says Sacks, who appears in the film. "Henry, normally mute and virtually unable to answer the simplest 'yes' or 'no' questions, is quite voluble. So in some sense, Henry is restored to himself."
The prescription is different for every patient. According to Schaerf, the most effective music is simply whatever the patient enjoys, be it blues, rock 'n' roll or gospel. The doctor is such a proponent of music therapy that he encourages his own staff to listen to one hour of music every day because of its potential mental benefits.
"There's no evidence that listening to music can help prevent Alzheimer's," Schaerf said. "But I think that it's certainly something that has to be looked at as part of a program of many different things that might continue to help the brain. You're sort of exercising, and you're using it so you don't lose it." 
Schaerf's director of research education, Angel Duncan, told Mic, "Dr. Schaerf is literally telling everybody, 'You need to listen to music because it's going to help your brain health, it's going to help restimulate your brain and it's going to improve quality of life.' To have a Hopkins physician prescribing music is really huge."
Marielle Mindlin Bernstein, president of the Junior Committee Alzheimer's Association of New York City, agrees. She told Mic in an email that music therapy is "truly amazing." "Pretty much everyone I know from the Alzheimer's Association has either recommended music as a therapy or has tried it with their relatives themselves," Bernstein said.
We still have a long way to go. Though music therapy significantly improves quality of life for Alzheimer's patients, it's not a treatment or a cure. "We're frantically trying to find effective treatments to at least slow the progression and delay the onset of Alzheimer's," Duncan said. "Five point two million reported people have Alzheimer's in this country. And we know that number is higher — a lot higher."
In addition to affecting an overwhelming number of people, Alzheimer's is also the single most expensive disease in the country. According to the Alzheimer's Association, nearly 1 in 5 dollars spent by Medicare is for people with Alzheimer's. By 2050, the number of people with Alzheimer's will nearly triple.
"We need to get people aware of this epidemic — Alzheimer's, memory impairment, what it's going to do to us financially, emotionally," Schaerf said. In that sense, music plays a cultural role as well as a personal one. Until we find a cure, music therapy is a beacon of hope for those Alzheimer's patients and their families with few options left. 
"One does not need to have any formal knowledge of music — nor, indeed, to be particularly 'musical' — to enjoy music and to respond to it at the deepest levels," Sacks writes in Musicophilia. "Music is part of being human."