Drake Just Proved Albums Might Not Be Dead After All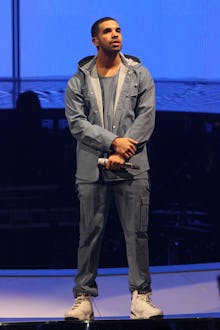 "With the Internet, the idea of the album is dead," Neil Strauss wrote for the New York Times in July 1999. George Ergatoudis, head of music at BBC Radio 1 and Radio 1Xtra, assured us last summer, "Make no mistake. With very few exceptions, albums are edging closer to extinction." Yet heading into 2015, that naysaying has met a new, bold contrarian: Drake.
A couple weeks ago, Drake dropped a bombshell of an album on an unsuspecting public. If You're Reading This It's Too Late offers a provocative glimpse at the artist's deeply introspective and defiant nature, clocking in at a whopping 17 simultaneously released tracks. With no advance singles or promotion whatsoever, it has managed to make a killing on the charts. On Thursday, Billboard announced that with that release, Drake tied his own record of having 14 songs simultaneously charting on the Hot R&B/Hip-Hop charts. Four of those cuts are older features with other artists, such as Nicki Minaj's "Only" and ILoveMakonnen's "Tuesday." But the other 10 are debuts off the new album. 
More than half his album is currently charting. Against all odds and predictions to the contrary, people are listening to his album and loving it. The album as a concept may be a lot further from its deathbed than we think.
An unexpected revival. Drake's impressive chart performance is due in part to recent changes in how Billboard figures its charts. In 2012, they adjusted their criteria to factor in streaming data to their chart measurements. That initially caused a lot of mainstream singles, such as Taylor Swift's "We Are Never Ever Getting Back Together" and Rihanna's "Diamonds," to shoot to the top of their respective charts. But it's now revealing a different potential impact.
Because Drake's album functions as a cohesive artistic whole, fans are consuming it in full. This is allowing hidden gems that would previously have gotten buried on albums to enjoy incredible new visibility on the charts. Songs like "6PM in New York" (a bonus track) and "No Tellin'" can enjoy their own accolades despite not fitting into the typical hit single mode of big anthemic choruses or easily digestible chord patterns.
Drake's album is not the first to achieve this feat. Since Billboard reformatted its criteria, Eminem, Jay Z, 2 Chainz and Kendrick Lamar have all had 10 songs chart simultaneously. In the cases of Eminem and Jay Z, that success was driven by cohesive albums, Eminem's being a sequel to his Marshall Mathers LP. Lamar's masterfully crafted concept album good kid m.A.A.d city allowed him to vault immediately into the very heart of hip-hop culture. It proved he had way more depth than a one- or two-hit radio rapper. 
Fans are waiting on Lamar's upcoming album with feverish anticipation. Artists who have heard it report that it's a masterpiece. It will, in all likelihood, cause a similar streaming frenzy. It won't be alone: Fans are also anticipating Kanye West's upcoming surprise album so eagerly that a simple mention that his album is "80% done" can make headlines across the Internet. (If you look up "80% done" on Google, nearly every result will be a Kanye headline.)
There is clearly still demand for fully realized, album-length works. Albums are obviously still not selling like they were in the late '90s/early '00s, when as many as 38 albums could go platinum in a single year (the total number of platinum albums released in the U.S. in 2014 was two). But there's now a different incentive for artists to craft sonically unified and focused albums: With streaming data swaying charts, artists can have far more impressive debuts by crafting solid albums that keep listeners engaged well beyond the singles.
Also, now that the surprise album is slowly becoming a standard release strategy, artists don't need to rely on singles to drive interest. The general excitement and promise of an immersive, aesthetic experience can do more than a single ever could. Vinyl too is in the midst of an amazing revival. Sales of vinyl LPs rose 52% from last year. Vinyl plants are actually struggling to keep up with demand. The love for the album is still out there, and arguably growing again in response to our scattered, oversaturated market.
Albums are not dead, and they won't die unless artists stop putting in the effort. With all these new incentives, there are fewer reasons for serious artists to stop creating ambitious album projects. And if fans continue to play their part, as they did for Drake, the format will not die. If you're reading this, it's not too late.