12 Years Later, Blur Is Still One of the Most Influential Rock Bands in Music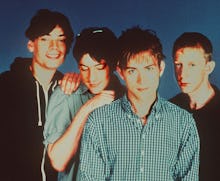 It's hard for anyone to ignore Oasis' impact. For legions of 20-somethings, they were an early introduction to rock 'n' roll. They helped bring Britpop stateside. They were wildly successful. They were the minds behind "Wonderwall," arguably one of the most popular rock songs of all time. And most importantly: If it weren't for Oasis, karaoke probably wouldn't exist. They were the greatest rock band Foo Fighters frontman Dave Grohl ever saw.
There's just one problem with buying into that narrative: Oasis wasn't the definitive band of the era. Blur was. Both bands formed in Britain just a few years apart, and it's no secret that their simultaneous commercial successes resulted in one of music's biggest rivalries. It was the war of Britpop, an ultimate stalemate that had faded from public eye by the time Oasis broke up in 2009 — well after Blur had effectively done the same. Now they're back, and they're reclaiming their legacy as one of the most influential and innovative bands of all time.
Last week, Blur announced the release of their newest album, The Magic Whip, during a livestream event in London. It was a big deal in the music world, but it didn't make much of a splash outside the music blogosphere. It should have. Blur hasn't released an album since 2003's Think Tank. SoThe Magic Whip is the first time in 16 years that all the original band members are releasing an album together. 
After numerous successful side projects and solo acts (and even a stint as a cheesemaker) over the years, Blur has collectively made it clear that the band still has a lot to offer. Lead singer Damon Albarn revolutionized hip-hop and rock crossovers as the leader of the Gorillaz. Guitarist Graham Coxon recorded eight solo records between 1998 and 2012. They've already given mainstream music one of the riches legacies any rock band ever has — after all, Coldplay only rips off the finest acts.
Still, Blur members always found their way back to each other, even when many rock bands split over creative differences. In June 2013, after a couple one-off gigs fell through in Japan, Albarn and Coxon, alongside bassist Alex James and drummer Dave Rowntree, traveled to Hong Kong and did what came naturally: They all sat down and recorded together in the same room. That's how The Magic Whip came to be.
"We went back home, got on with our lives and didn't think much of it, except, 'That was a nice thing to do,'" Coxon told South China Morning Post. "It was an exercise in whether it was still possible for us to do that. But I couldn't help thinking we'd captured something really nice."
For Blur, something "nice" is always something innovative. For an initial look, The Magic Whip is clearly indebted to Hong Kong and its musical traditions. While their third and perhaps most commercially successful album, Parklife, was classic Britpop, later albums show that much of Blur's catalog reflects when and where they recorded — and what course popular music would take. Tracks like "Crazy Beat" and "Out of Time" from Think Tank captured a worldlier feel. Albarn found himself more drawn to African elements and rhythms and took the band to record in Morocco. Its hip-hop and dubstep influences anticipated the pioneering work Gorillaz would go on to do, and the popular crossover acts that would dominate the late 2000s.
That's exactly why their rock legacy is so important: A Blur reunion album would be a best seller no matter what. But they wouldn't make a record until they had something new and revolutionary to say. "Blur's frontman Damon Albarn has always struck me as a good [role] model," Ezra Koenig of Vampire Weekend told inSing. "He does what he wants, participating in various projects without coming across as overly eager or anything."
"You have to keep moving forward," Albarn told the Guardian last year. "Something terrible happens to you if you just stay the same. We are only here for a very brief time, and if you are not inhaling as much as you can — excuse the metaphor — you're just wasting precious moments of time."
It seems that a deep breath was all the band needed; now they're back to remind us what it sounds like when Blur exhales.