Watch Christina Aguilera School Jimmy Fallon's Musical Impression Game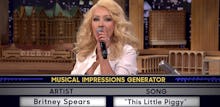 It's hard to argue against Christina Aguilera's natural talent as a singer, but who knew she was such a good impressionist as well? 
On Monday night's Tonight Show, the singer/songwriter/genie-in-a-bottle joined host Jimmy Fallon for a game of "Wheel of Musical Impressions." And even though Aguilera has an amazing singing voice of her own, this was something else:
Aguilera's challenges included Cher singing the Folgers coffee jingle, Shakira singing the Golden Girls theme and former co-Mouseketeer Britney Spears singing "This Little Piggy." While none of those might seem like a huge stretch for the singer, she nailed each one so perfectly, you'd almost forget it wasn't her actual voice. Though Fallon had made something of a career out of impressions and specifically musical impressions, it was Aguilera who undoubtedly stole the show. 
After losing to Adam Levine in the same contest a few months ago and Kevin Spacey in a non-musical impression-off last Halloween, it's starting to seem like these games might be rigged. (Hint: Of course they are).