Michael Sam Joining 'Dancing With the Stars' Will Kill His Football Career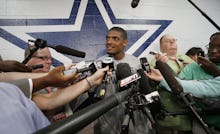 Good news: Michael Sam will be doing some spring training this season after all. Bad news: It's not for football.
As announced Tuesday morning on Good Morning America, the onetime defensive end from the University of Missouri is joining the 20th season of ABC's Dancing With the Stars. But rather than being a cause for celebration, this news is disconcerting for fans invested in seeing Sam play in the NFL. It's more than that, actually: This will kill his football career.
There's no shame in joining Dancing With the Stars, of course; former Dallas Cowboy and Arizona Cardinal Emmitt Smith won its third season, and dozens of other athletes have competed for the mirror ball trophy. But they've participated after becoming notable on the field. Sam is joining before he's played a minute of a regular-season NFL game. At this point, sad as it is to say, he's more of a "star" for being the gay man who got drafted and cut than for being a football player of any sort.
Though the shine of his star is dubious, celebrities of far less public interest have competed on Dancing With the Stars. The real concern is Sam's approach to his own career. At one point, Sam's primary concern was getting drafted and staying drafted. He even called off his documentary series with Oprah Winfrey when it looked like it might threaten his position with the St. Louis Rams. This was a man who in the past, above all else, just wanted to play football.
What does his joining Dancing with the Stars say about that goal? Has he lost hope at ever playing in the NFL? Because if he hasn't, there's no way to see this move as anything but a net negative. It amplifies the previously unfair accusation that Sam is in this for the celebrity, not for the sport. Does he still want to play football, or has he just resigned himself to cashing in on his minor celebrity while he can?
At this point, Sam's career goes beyond just him. His story has drawn passionate supporters who have followed each twist and turn with bated breath. Will he be drafted? The Rams grabbed him! There was the historic kiss on ESPN! And then, he was cut. But then the Cowboys picked him up for their practice squad! Which he was then cut from. It's been a roller coaster ride, but one people have invested themselves in, getting excited and disappointed at the prospect of a gay football player in the NFL. And now, that story is likely coming to a close because of a show about celebrity ballroom dancing.
While one might even argue that Sam's chances at an actual NFL on-field career were slim, if he really loved football, there are other ways he could stay involved in the NFL and the sport. There are countless off-field football jobs like coaching, a desk job or commentating that Sam could likely pursue — all of which would likely be a more understandable next step than a slot on Dancing With the Stars.
Though a win on the show would successfully brand him as Michael Sam the Star, it's hard to imagine this isn't the end for Michael Sam the Player's story. He's trading in a chance at football for a chance at Dancing With the Stars' mirror ball. Suddenly, Sam's is the story of the first openly gay NFL player who never was.